Soldiers blocking suspects from attending court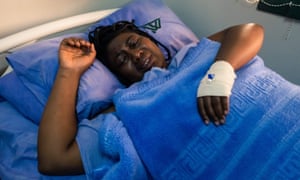 MP Joana Mamombe, Cecilia Chinembiri and Netsai Marova had a torrid time with police and soldiers in Harare as they were driving to Harare police Station to report as per their bail condition.
The MDC trio were accompanied by their lawyer Obey Shava when they clashed with a soldier who denied them access to Harare Police Station.
The trio are attending court after being arrested by police for allegedly lying about their abduction and torture.
The MDC youths leaders allege that they were abducted from Harare Police Station by secret state agency and driven into the bush blind-folded where they were assaulted and sexually abused the whole night before being dumped at a township known as Muchapondwa.
The State is accusing the trio of faking their abduction and torture. \
MP Mamombe is heard in the video clip warning a soldier that he had no right to issue instructions that they were contrary to court orders. The police officer seems to understand the need for the suspects to proceed and report at the police station. The Soldier who is clearly in charge and making decisions does seem to understand what the reporting what all about.
One of the ladies is heard crying from the back seat claiming to have been beaten up at the road block.