ED slated for attempting to extradite Mzembi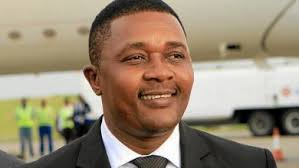 By Zimbabwe Observer Acting Editor
Exiled former Zimbabwe Minister Walter Mzembi said he was still consulting after the Zimbabwe government requested South Africa to extradite him to face charges of criminal abused of office
Mzembi skipped bail while on remand on charges of criminal abuse of duty and theft of trust funds involving US$847 000.
"I am still consulting, I will get back to you," said Mzembi when Zimbabwe Observer contacted him for a comment.
In an earlier twit, Mzembi said: Et tu brute? Oh Sorry it is Caesar reincarnated? The world has laws brother, it's not that simple to silence critics and political opponents by weaponising prosecution against perceived enemies." Scores of Zimbabweans however poured scorn to the move which they dismissed as cheap politics.
The Zimbabwe government's attempt to lay their hands on Mzembi followed after he twitted a few weeks ago revealing that General Constantine Chiwenga never meant to over throw Robert Mugabe, but was duped into doing so by the current President Emmerson Mnangagwa.
"Attempts by President @edmnangagwa to extradite Former Foreign Affairs Minister @Walter Mzembi from South Africa are laughable. No government on this planet takes this rogue regime seriously. You do not need to be a rocket scientist to see the president is a vindictive sociopath," tweeted Lance Guma, a UK based respected journalist and Managing Editor of Nehanda Radio.
Another Zimbabwean, Dzinashe Machingura weighed in saying the Trustees of the Fund who were handling the money were acquitted already of any wrong doing.
"Yes interestingly all @waltermzembi co-accused had charges withdrawn and acquitted; they are all the Trustees, not Mzembi," Machingura.
Meanwhile the EFF leader Julius Malema has called for the closure of the Zimbabwe embassy until ED's government start respecting ordinary Zimbabweans.
"We will prevent any official from the Zimbabwe government from participating in any gathering in SA until they respect ordinary Zimbabweans," said Malema.
Mzembi, who allegedly committed the offences when he was Minister of Tourism and Hospitality Industry and was spearheading Zimbabwe's cohosting of the United Nations World Tourism Organisation (UNWTO) Conference in August 2013, is believed to be staying in South Africa since he skipped bail on the criminal charges some two years ago.
In a request for extradition, Acting Deputy Prosecutor-General Mr Nelson Mutsonziwa indicated that Mzembi's prosecution will be solely in respect of the criminal abuse of office and theft charges.
The request to hand Mzembi into ED's stinging tentacles came a day after a Tawanda Muchehiwa, a 22 year old cousin of journalist Mduduzi Mathuthu, was abducted and tortured. He is believed to have been poisoned since he suffered a renal failure yesterday. Scores of other activities including award winning journalist Hopewell Chin'ono and Transform Zimbabwe leader Jacob Ngaribvume are languishing in jail after being repeatedly denied bail.
Mutsonziwa promised SA government to return a similar favour in future if their requested was heeded. Another Zimbabwean, identified as Dice, took to twitter to dismiss Mutsonziwa's offer as a 'rotten attempt' to turn South Africa into a banana republic like Zimbabwe.
"South Africa sticks to laws and cannot be hoodwinked into lawlessness by such a rotten attempt by Mutsonziwa," said Dice.
South Africa doesn't have an extradition pact with Zimbabwe.