Pastor Munyeza, a sanitiser for Zanu PF human rights abuses, Magaisa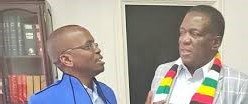 A leading political commentator has described pastor Shingi Munyeza, as Zanu PF sanitiser for human rights violations.
University of Kent constitutional law lecturer, Alex Magaisa said that the arrest of other government critics, while Munyeza was allowed a free reign to attack Zanu PF has a dark story to tell.
Meanwhile, Munyeza, who spoke in support of the July 31 protests and who the government has openly accused of calling for its overthrow, has not been arrested. Magaisa says this selective application of "the law" is proof that Munyeza is being used to justify a crackdown on government critics.
The regime wants to be praised for tolerating Pastor Munyeza who is a member of Mnangagwa's Presidential Advisory Council while at the same time it is persecuting political opponents like Sibanda who were peacefully exercising their constitutional rights.

As argued in the BSR the regime excels in double standards and selective application of the law. It expects commendation for being nice to someone who is in their structures while being vicious to other dissenting voices.

It's probable the regime has very little regard for Pastor Munyeza and that statement shows the regime uses its "tolerance" of his criticism as justification for its egregious abuse of other citizens' rights. Why else does the regime treat Sibanda and Munyeza so differently?
While several ZANU PF officials and activists have been censored by the party for their alleged involvement in organising the demonstrations, none of them has been arrested.
Meanwhile, freelance journalist Hopewell Chin'ono and Transform Zimbabwe (TZ) leader Jacob Ngarivhume are currently languishing in prison at Chikurubi Maximum Security Prison on similar allegations.
–Pindula