Sikhala's fight, not limited to MDC A, but extends to all suffering citizens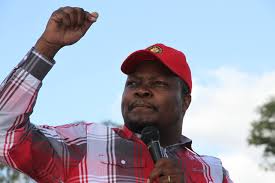 By Hon Job Wiwa Sikhala
Enquiries are being made about my whereabouts and safety by concerned people of good faith, embassies, friends and relatives. I want to just advise everyone that God is in Charge. In him I trust.
My present situation is exactly the society that Zimbabwe has become, where citizens live like animals; hunted and abused by the very same people who should be protecting citizens and their rights. This is the society that Eddison Zvobgo rejected. It is the society that Joshua Nkomo, Alfred Nikita Mangena, Nelson Mandela and it is the unacceptable society rejected by the luminary cohort of Africa's founding nationalists and revolutionaries.
The 31st July Movement is a Convergence Initiative of Citzens on critical and urgent issues of national concern affecting the lives and livelihoods of ordinary Zimbabweans. The 31st July Movement has broad based constituencies of all citizens, across the political divide, including those in ZANU PF who are not happy with the deplorable state of affairs pervading our country. It is wrong and crass for anyone to associate my position in the MDC ALLIANCE with my role in this all-inclusive and broad based movement of citizens. I am not playing my role on the instructions of my party position but the role allocated to me by the stakeholders driving the 31st July Movement.
Therefore when I speak, I am speaking on behalf of the broad citizens not on behalf of any political party. This is because citizen interests cut across the political divide. That is the objective of the 31st July Movement: to unite all our citizens. Zimbabwe needs unity today beyond political colour than at any given time.
Free Hopewell Chin'ono
Free Jacob Ngarivhume
Free Godfrey Kurauone
NO to Corruption
NO to Looting
NO to Abductions
NO to Torture
NO to All Forms of Human Rights Abuse
Hon. Job Sikhala is the spokesman of J31M, a broad based citizens movement which cuts across political, social and religious divides. He is writing as the spokesman of J31M not MDC A Vice-Chairman.