Zanu PF tells ANC to shut up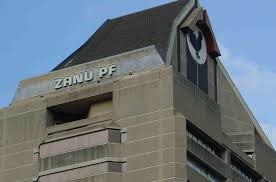 By Mpedzegwa Wamanava
HARARE — Zanu PF has flashed the middle finger at the African National Congress of South Africa and accused their fellow revolutionary party of equally committing atrocities in their country. ANC secretary-general, Ace Magashule has been told to 'shut up' after he condemned the escalating human rights abuses in Harare.
"ZANU PF takes exception to the utterances that have been attributed to Cde Ace Magashule, the secretary-general of the ANC where he appeared hoodwinked by those seeking to destabilise Zimbabwe through peddling of social media falsehoods. As a revolutionary sister, it has never been our tradition to censure a fellow revolutionary movement, or leaders, using megaphone approaches, moreso when such utterances are misinformed and baseless, to say the least," reads part of Zanu PF's statement which was released last night.
In the statement, Zanu PF reminds the ANC of how their police shot dead mine workers at Marikana. The clearly irate Zanu PF goes on to cite how South African soldiers killed eight civilians  during the current lockdown enforcement.
"We have watched Marikana killings that are unprecedented since the turn of the millennium by government forces but we have sought to respect SA's right to deal with their own matters internally. We are,  however, taken aback by these latest irresponsible utterances by Cde Magashule, who by all means should have sought clarification from his counterpart Dr Obert Mpofu, the Secretary of Administration for ZANU PF." 
Harare dismissed Pretoria as equally abusive to its  citizens pointing out the internet is awash with images of South African soldiers beating up citizens with fists, boots and sjamboks.
"It has been reported members of the SANDF killed eight non-compliant citizens in the streets but we have not uttered a word in public despite President Mnangagwa being the chair of Sadc troika on security," fumed Zanu PF.
Zanu PF also accuses ANC leaders of fanning xenophobic attacks on Zimbabweans by spreading hostile messages."We have seen our people suffering from xenophobic attacks with some ANC leaders spreading hostile messages that are xenophobic but we have sought to address that diplomatically." 
The former guerrilla fighters warned Magashule against relying on fortune-seeking and faceless organisations like Tajamuka.  
Amid the stinging protests from Zanu PF, President Cyril Ramaphosa, has appointed Sydney Mufamadi and Baleka Mbete as special envoys to Harare over the crises."The President of the Republic of South Africa, His Excellency@CyrilRamaphosa has appointed Dr Sydney Mufamadi and Ms Mbaleka Mbete as his Special Envoys to Zimbabwe,following recent reports of difficulties that the Republic of Zimbabwe is experiencing," the SA leader's Twitter handle said last night.