ZUJ remains tight-lipped as persecution of Chin'ono, Mduduzi continues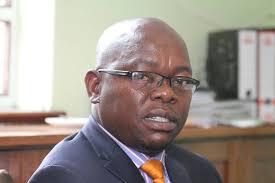 Staff Reporter
HARARE — A storm is brewing in the Zimbabwe Union of Journalists where the constitution of the grouping was clandestinely amended recently to create a life secretary-general.
Previously, the secretary-general's tenure was limited to two five-year terms.
It all started with a post on Zimjourno whatsapp chat group which confirmed the development, to which one member of the group replied, "I cannot get my head round the fact that ZUJ has amended their constitution to create a life secretary-general. Why have an Ayatollah in a labour union?"
Ray Mungoshi, the group's founder and admin, immediately brought in Forster Dongozi, who is now life secretary-general of the union, to explain.
"We are hoping you could answer some of our concerns, chief among them the painful silence over the Hopewell (Chin'ono) affair and the one succinctly stated in the preceding post," said Mungoshi in a direct post to Dongozi.
Before Mungoshi's query, a member had asked why they had made Dongozi a life secretary-general.
Several paid-up ZUJ members said yesterday they had not been consulted or formally informed and only heard about it through the grapevine.
According to the ZUJ constitution, any amendment can only be made by a two-third majority vote at the congress. No congress was held before the change.
Both Dongozi and ZUJ president Michael Chideme had by last night not responded to questions put to them two days ago. Chideme could only say last night he is not going to seek re-election at the next congress. "I have done my bit," he said.
ZUJ has been silent on serious abuses of journalists by the government of President Emmerson Mnangagwa, chief among the victims being Hopewell Chin'ono, who has been incarcerated in Chikurubi Maximum Prison, a facility meant for convicted criminals, for more than a month. He is being accused of "fomenting violence against a democratically-elected government".
Ironically Chideme got his job back at The Herald after the Matthew Takaona led ZUJ executive intervened when he was fired by the then editor Pikirayi Deketeke.
Chin'ono is yet to be tried in a court of law but his case has been postponed three times, while being denied bail at the same time.
Many Zimbabweans feel he is being persecuted for exposing a scandal, in which Mnangagwa's son, Collins, and his criminal friend Delish Nguwaya, grossly inflated prices of Covid-19 supplies and thereby raking in millions.
Nguwaya was jailed and health minister Obadiah Moyo fired.
The journalist who broke the story — dubbed Covidgate — Mduduzi Mathuthu, is in hiding following the arrest and incarceration of Chin'ono. Journalists feel ZUJ has neglected its mandate as a union.
Mathuthu's nephew, Tawanda Muchehiwa, who is a journalism student at Midlands State University, was abducted by State security agents who tortured him for three days before they dumped him at his family home, badly injured. He is now bed-ridden and receiving dialysis to treat his kidneys that were damaged during the three days of brutal torture.
The ZimLive editor's sister was arrested and detained as bait by frustrated State security agents when they failed to find Mathuthu during a raid on his house in Bulawayo. Feeling embarrassed, they released her.
Defending the blatant abuse of citizens by the State, information secretary Nick Mangwana tweeted, "Relatives withholding information about the whereabouts of fugitives will be arrested for obstructing justice!"
"ZUJ's silence is painful," said a veteran who is now retired. "It's even more painful when the State tortures relatives of these scribes for things they are absolutely innocent of. Yet, ZUJ is quiet as if nothing is happening."
"Could it be because they are afraid of losing their farms?" queried another.
Both Dongozi and Chideme are beneficiaries of the government's largesse. They are proud owners of farms under the land reform programme.
"Chideme stopped practising many years ago and is now a Public Relations executive at Harare City Council and how can he continue leading us when he is no longer one of us," fumed a one journalist in a post of a whatsapp group of journalists.
Added another journalist: "Chideme is now in corporate bureaucracy. Obviously has no interest in Journalists' welfare."
Mnangagwa's regime is notorious for taking back farms given under land redistribution, from dissidents and offering them to people who lick their boots.
Notable among those who have lost or are fighting to keep such farms are the notorious self-exiled former information minister, Jonathan Moyo, former foreign affairs minister Walter Mzembi, former local government Saviour Kasukuwere and Robert Zhuwao, nephew of the late former strongman Robert Mugabe.
Zhuwao lost his Norton farm to Kirsty Coventry, the sports minister in Mnangagwa's regime.