ED kicks out blacks from farms to pave way for whites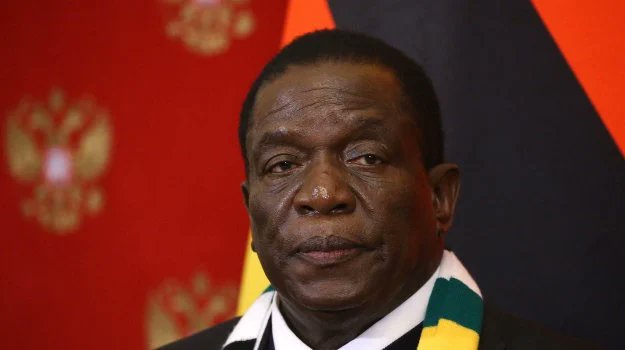 HARARE — In a major policy shift, Zimbabwe is now returning land to former commercial white farmers whose farms were seized under the late strongman Robert Mugabe.
ED reversing land reforms. He is the biggest threat to stability, says Biti
Now, they can apply to get it back and will be offered land elsewhere if restitution proves impractical, the government said yesterday.
The move, a complete reversal of the land reform programme, has drawn the ire of the opposition MDC-Alliance chairman Tendai Biti who branded it a "betrayal of the liberation struggle".
"A careful perusal of the regime's statement yesterday shows beyond reasonable doubt they are now in the process of reversing the land reform programme," he said. "The process started when they agreed to compensate white former commercial farmers.
"It is not only unconstitutional but a huge betrayal of the liberation struggle," he said.
"The latest betrayal confirms Emmerson (Mnangagwa) as the biggest threat to the stability, freedom and prosperity of Zimbabwe. A dangerous, ideologically vacuous element now busy uprooting the constitution, rule of law and gains of the liberation struggle. (Herbert) Chitepo, (Joshua) Nkomo et al are puking in their graves!" he roared.
Last month, Zimbabwe agreed to pay US$3,5 billion in compensation to local white farmers whose land was forcibly taken by the government to resettle black families, moving a step closer to resolving one the most divisive policies of the Mugabe era. Under Zimbabwean laws passed during a short period of opposition government but ignored by Mugabe, foreign white farmers protected by treaties between their foreign governments and Zimbabwe should be compensated for both land and other assets. The Emmerson Mnangagwa government is buckling under pressure from foreign governments, whose citizens also lost land under the programme despite international treaties that protected them. Previously, the Zanu PF government had vowed to compensate farmers for improvements made to the farms, not for the land itself. Now, the cornered government is willing, in some instances, to compensate them for land as well.
In that regard, finance minister Mthuli Ncube and lands and agriculture Minister Anxious Masuka said in a joint statement that these farmers should apply for their land back. That means, in some instances the government would "revoke the offer letters of resettled (black) farmers currently occupying those pieces of land and offer them alternative land elsewhere," the ministers said.
But removing the black beneficiaries from the land could prove practically and politically difficult. "Where the situation presently obtaining on the ground makes it impractical to restore land in this category to its former owners, government will offer the former farm owners alternative land elsewhere as restitution where such land is available," the statement said.
The ministers said other white farmers whose land had been earmarked for acquisition by the government but were still on the properties, can apply to lease the land for 99 years, just like their black counterparts. President Emmerson Mnangagwa had said earlier the land reform could not be reversed but paying of compensation was key to mending ties with the West.
However, he is cornered with no escape route in sight as the southern African country faces unprecedented economic and political crises since independence from Britain in 1980. Inflation is at more than 800 percent, doctors and nurses are on strike and millions face starvation amid a crippling drought.
The country is in billions of debt caused by a number of factors, chief among them looting of public resources, corruption and government profligacy. Global financial institutions are unwilling to lend them money or offer a rescue package until there are political and economic reforms. Even its "fair weather friends" like China, are developing cold feet.
The new move has divided public opinion in Zimbabwe, where the number of white farmers has dropped to just over 200 from 4 500 when land reforms began 20 years ago, according to the pre-dominantly white Commercial Farmers Union.
When Mnangagwa agreed to compensate the white farmers last month, firebrand Economic Freedom Fighters leader Julius Malema branded him a sellout, saying he wasn't going to finish his term.
"It's a sellout position. The way he is going about it, he is not going to finish his term," he said.
"The country is swimming in poverty . . . yet he gets the money and goes to give it to people who do not deserve it. He is reversing the gains of the revolution struggle."
–— Zimbabwe Observer-Reuters.