Ramaphosa envoys urged to meet Chin'ono, Ngarivhume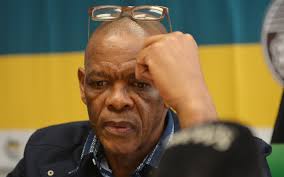 Staff reporter
The 31st July Movement (J31M) has called upon President Cyril Ramaphosa's envoys to meet Jacob Ngarivhume and Hopewell Chin'ono on their second trip to Harare on Tuesday.
Ramaphosa's high powered delegation led by the ANC Secretary General Ace Magashule is expected in Harare early next week to understand and sort out of the crisis bedeviling Zimbabwe.
"J31M urges the envoys to meet with leaders of J31M Jacob Ngarivhume and Hopewell Chin'ono who are currently on bail after spending five weeks in detention. The two are being accused of inciting public violence after calling for a peaceful protest against corruption and abuses of human rights. J31M is of the view that meeting political parties alone leaving out other stakeholders who are directly feeling the brunt of the current crisis of human rights abuses would be a mockery of the whole exercise," said J31 in a statement released on Saturday.
J31M called upon the envoys to concentrate on addressing the issues being raised by citizens instead on focusing on political personalities. The J31M added that there was need to depoliticize the problems of Zimbabwe by involving citizen's movements.
"It would also make perfect sense for the envoys to call for the immediate cessation of persecution through the courts of activists fighting against corruption and human rights abuses. We demand the immediate release from detentions of J31M activists who include Hon. Job Wiwa Sikhala, Cllr Godfrey Kuraoune and a safe passage to Editor of ZimLive Mduduzi Mathuthu who is in hiding for fear of being tortured by the secret state agents," reads part of the statement.
The Movement also raised doubt over the impartiality of the courts who citizens view as weapons to punish political opponents and activists.
"We believe that the courts are being used as a weapon by the present government of Emerson Mnangagwa to punish Sikhala for speaking out against corruption implicating members of the first family. We don't doubt even for a second that Chin'ono is taking the same punishment for exposing corruption involving Mnangagwa's family. The same applies to Ngarivhume who openly called for a peaceful anti-corruption protest on 31 July," said the J31M.
Continued J31: "So it would not make any sense if the envoys were to avoid direct talks with protagonists raising the issues to focus on political by standers."
J31M also wrote to Magashule and South Africa Ambassador to Zimbabwe Mphakama Mbete requesting them to make efforts to meet representatives of the Citizen Movements.