Video: Zanu PF accuses Chamisa of training bandits in Serbia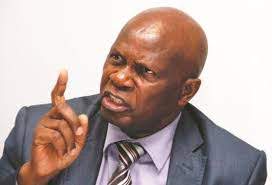 Former Justice Minister Patrick Chinamasa, who is ZANU PF acting information secretary, has sensationally accused the MDC Alliance of sending bandits for training in the Balkans on how to make bombs to cause chaos in the country.
Addressing the media at the party headquarters in Harare on Friday, Chinamasa accused the MDC of being a violent party which is maintaining violence structures.
Chinamasa also warned the Republic of Serbia and Moldova, a former Soviet republic, against training the alleged Zimbabwean dissidents. He said:
We are aware the MDC Alliance has been training, sending to Serbia and Moldovia renegades who are being trained to prepare Molotov cocktails and come to cause mayhem and violence in our country.
We all know the MDC is a party that loves violence and continues to maintain violent structures which they characterise as vanguards or resistance committees.
I want to say to Biti and Chamisa, don't play with fire like children. You must proceed forthwith to dismantle your violent structures.
We also call Serbia and Moldova, who host such violent training, that Zanu PF will not tolerate that.
Chinamasa also accused MDC leaders Nelson Chamisa and Tendai Biti of celebrating the death of a soldier in Chivhu last Saturday who was shot by assailants at a police post.
Zimbabwe National Army (ZNA), Lance Corporal Lorance Mupanganyama was shot dead while Corporal Peter Zvirevo and Corporal Stanalious Chiunye were injured in separate incidents by the insurgents.
–NewZimbabwe.com