Zhuwao bashed for presenting his uncle Mugabe as a saint.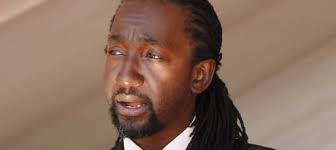 Patrick Zhuwao, nephew to the late Zimbabwe dictator, Robert Mugabe touched the raw nerve of Zimbabweans when presented his uncle as a saint during a TV interview to reflect on Bob's legacy.
The reflection came on 6 September on the day, Mugabe died at a Singapore Clinic.
Social media backlash, ensued as soon as Zhuwao said his uncle's legacy was being butchered by current President Emerson Mnangagwa.
Zimbabweans took to Tweet and Facebook to dismiss the late Mugabe as "a selfish and murderous dictator." who left behind scores of farms to his wife Grace.
"Patrick Zhuwawo is passive enough to know that had his Uncle promoted democracy, separate powers to other institutions,limits to 2 terms policy,promotes infrastructure and development,abandoned one-party state Mugabe had strongly vowed to have, we wouldn't be in this deep crisis," tweeted one Zimbabwe national.
Zhuwao who also served in Mugabe's cabinet shocked Zimbabweans when he failed to identify the genocide committed by his uncle in Matabeleland as one of his uncle's mistakes.
This followed after the Newzroom Africa news presenter; Bongiwe Zwane took him to task over the human rights abuses which the late dictator subjected citizens to.
Instead Zhuwao said Mugabe's appointment of Mnangagwa to be the Vice President was the biggest mistake made by his uncle.
"Mugabe knew Emerson's character of cruelty, but he appointed him Vice President knowing very well how vindictive he is," said Zhuwao who insisted that Zimbabweans were reaping what they sowed by celebrating the coup. Zhuwao added that Mnangagwa belongs to a breed of freedom fighters who view Zimbabwe as their private and personal property which excludes all other Zimbabweans.
When Zwane pointed out to Zhuwao that his uncle was not different to Mnangagwa, he said it was pointless taking about a dead man.
"He died a year ago and what is the point of talking about him?" said Zhuwao who is now a lecturer at Witwatersrand University in Braamfontein.
However Zwane maintained that Mnangagwa was merely continuing in the same lane of what Mugabe started adding that Zhuwao was only complaining now because he was removed from the feeding trough after the unceremonious departure of his uncle.
The combative Zwane also asked Zhuwao why he didn't make the changes when he was in cabinet.
"You were part of the cabinet, why didn't you make those changes, because people were abducted and tortured as well during Mugabe's time. Journalists were also being harassed by your uncle," asked Zwane.
Instead Zhuwao said he was only in Cabinet for two years before the 17 November coup adding that Mnangwagwa was more influential to his uncle than him.
Zhuwao ran into exile together with Mugabe's former inner cabinet members when Mnangangwa took over power through a military coup on 17 November 2017.