Call us Junta, we will continue ruling, Mohadi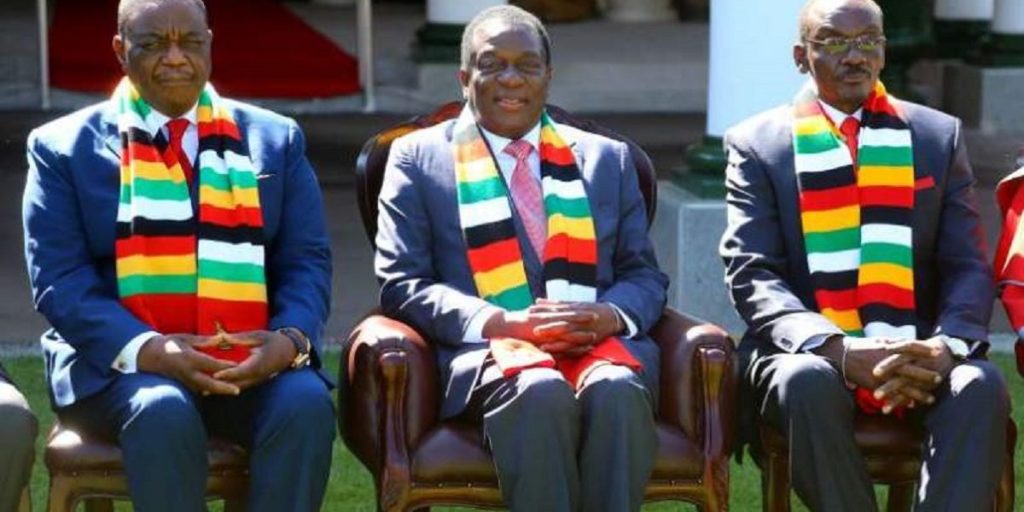 Zimbabwean Presidium: VP Constantino Chiwenga (left) President Emmerson Mnangagwa (centre) and VP Kembo Mohadi (right)
Vice President Kembo Mohadi has said the ruling ZANU PF will continue ruling despite the name-calling by its detractors.
Mohadi made the remarks while addressing government officials, among them Cabinet ministers, following a tour of infrastructure built under the Beitbridge Redevelopment Project. He said:
People call us junta, the President (Emmerson Mnangagwa) is a war veteran, Vice-President (Constantino) Chiwenga is a soldier, I am a soldier, (Housing) minister (Daniel) Garwe here is a soldier and we will rule not minding what the media says. We will continue to rule. Civilians will not.
Those of you who are like dogs barking at the rising moon, you can come back home because the moon will continue rising. There is nothing wrong in coming back home.
A Military Junta predominantly refers to the government of an authoritarian state run by high-ranking officers of a military.
ZANU PF critics started using the term junta in reference to President Mnangagwa after he rose to power in 2017 through a military assisted transition.
Mnangagwa is also accused of conniving with the Zimbabwe Electoral Commission (ZEC) to manipulate 2018 elections in his favour.
Analysts have also observed the militarisation of several government departments and parastatals since the ascendancy of Mnangagwa to power.
–NewsDays