ZLHR stops Chitungwiza Municipality's home demolitions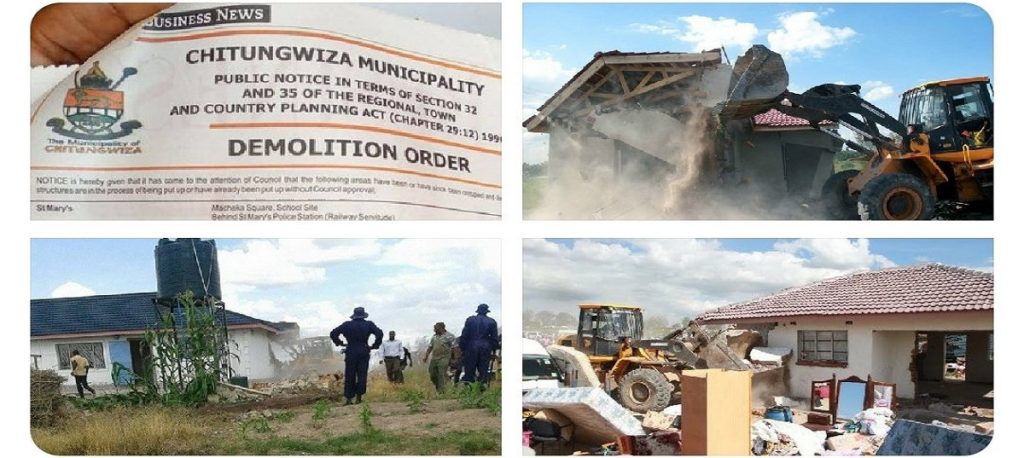 A threat of court action by the Zimbabwe Lawyers for Human Rights (ZLHR) has stopped the MDC A controlled Chitungwiza Municipality from demolishing homes.
The municipality razed down scores of homes in St Marys and Zengeza last week, describing the people's dwellings at illegal structures.
MDC A leaders took to social media over the weekend distancing their municipality from the destructions.
Harare Mayor Jacob Mafume told journalists in a WhatsApp group that the demolitions were being conducted by Joint Operations Command (JOC).
The Party's Deputy Treasurer-General, Lillian Timvoes said the Ministry of Local Government was responsible for the destructions of people's homes.
However the ZLHR's threats have unearthed the identity of the demolisher, who turned out to be Chitungingwiza Municipality.
Chitungwiza Municipality succumbed after ZLHR, acting at the behest of Chitungwiza Residents Association wrote to the municipality demanding the local authority to produce a court order granting it the right to destroy the homes or they would take legal action against it.
ZLHR had written:
May we kindly remind you that Section 7 of the Constitution provides that no person may be evicted or removed or have their home demolished without an order made of court. After considering that all the relevant circumstances your purported order is not in terms of the Constitution and is in violation of the Constitution
Chitungwiza municipality responded to ZLHR letter announcing the suspension of the demolition order. The local government authority said:
Please be advised that council in its special full council meeting held on October 9 2020 resolved to put the demolition exercise in abeyance hence the demolitions will no longer be affected as per the cited order.
The order had attracted criticism from observers across all walks of life with the former Minister of Energy Advocate Fortune Chasi saying the timing was off while the local government authority was also to blame for the erection of the structures.
He argued that the municipality watched as the structures mushroomed, collected rates from the owners, instead of stopping them in time.
In some cases, the government regularised illegal structures in an endeavour to protect "innocent" owners who could have been duped by unscrupulous council officials and land barons.
–New Zimbabwe