Paraffin, Scarfmore or Ras Dambudzo, take your pick!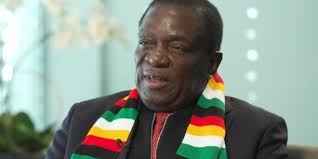 By Theresa Nkala
HARARE — President Emmerson Mnangagwa has become the butt of cruel jokes from Zimbabweans all over the world over one of his wardrobe accessories — that colourful scarf he dons everywhere, even in the searing Zimbabwean heat.
Elsewhere, scarfs are usually worn under a coat to keep the wearer warm. Not so for Mnangagwa. He has donned it everywhere even in the sweltering Zambezi heat, as was the case when he joined former Botswana president Ian Khama and the Zambian leader Edgar Lungu for the ground-breaking ceremony of the new Kazungula Bridge almost two years ago.
Many Zimbabweans speculate that, initially, Mnangagwa wanted to make a political statement that identified him with both Zanu PF and the Zimbabwean government by permanently donning the national colours around his neck. If that was the case, the plan backfired spectacularly.  
That didn't stop Zimbabweans from giving him uncomplimentary nicknames like, Paraffin — a name from the television comedian of yore who always wore a scarf around his neck and a woollen hat — Scarfmore or Ras Dambudzo — a reference to Rastafarians, who always wear apparels with similar colours.
Many feel, if Mnangagwa's strategy was to promote Zimbabwe, then it has outlived its usefulness. "The scarf has since been reduced in the public mind to an item of dubious value, if not outright riducule," said Thandie Mthembu. "It now does little to enhance his image as President."
Said veteran journalist Geoffrey Nyarota: "If the President of Zimbabwe thinks nothing of going around in this sweltering tropical heat while wearing that obviously very warm and colourful accessory and Mrs Auxillia Mnangagwa is happy about her spouse's choice of sartorial elegance, who are we to dissuade him? It's a free world."
Nyarota added that he was yet to meet a Zimbabwean who speaks in genuine praise of the President's multi-coloured scarf.
Musafare Bere, a pychologist, said several elderly politicians, like autistic people, have an affinity to certain objects or clothing accessories, as was the case with Kamuzu Banda of Malawi, who always held a horsetail in his hand, Kenneth Kaunda of Zambia, who always had a white handkerchief and Mobutu Sese Seko of Zaire (now Democratic Republic of Congo), who always had a sceptre in one of his hands.
"Take any of that away from them," he said, "it will be like a bereavement."
Those who are superstitious, however, believe the scarf the Crocodile, as Mnangagwa is also known, wears around his neck, is linked to nocturnal activities associated with witchcraft. "You think it's just a scarf?" asked Penjeni Madziva. "It's an amulet. He believes it protects him from his enemies."
The Zimbabwe Observer sent questions to the presidential spokesman George Charamba, through his Facebook account, about this weird accessory in the wardrobe of the leader of Zimbabwe but he had not responded by last night.
Whatever it is about the President's colourful scarf, it makes the nicknames Scarfmore, Paraffin or Ras Dambudzo stick. Unless, of course, he ditches the weird accessory soon.