Mnangagwa makes "forced" changes to presidential guard brigade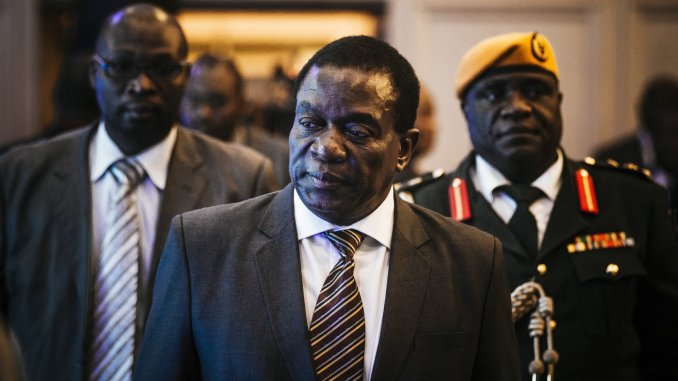 President Emmerson Mnangagwa has made several "forced" changes to his Presidential Guard (PG) Brigade in a move analysts view as a coup-proofing strategy.
The PG's second-in-command, Colonel David Nyasha, was recently replaced by Mnangagwa's former aide-de-camp, Never-Jones Makuyana, while Nyasha is understood to have been posted to army headquarters.
The NewsHawks cited security sources saying Nyasha opted out of the yellow beret unit after he clashed with his superior, Brigadier-General Fidelis Mhonda.
Makuyana, who at the time was a lieutenant-colonel, was deployed to army headquarters after Mnangagwa changed his security team in the aftermath of the White City Stadium explosion in Bulawayo in 2018.
The suspected grenade attack claimed the lives of some security personnel and injured several high-ranking government officials and Makuyana, who is now PG second-in-commander, survived without a scratch but had his service pistol damaged by shrapnel.
Mhonda replaced Anselem Sanyatwe, who was briefly promoted to Major-General before being posted to diplomatic service in Tanzania.
The former officer commanding 1 Presidential Guard, Samson Murombo, who later became one of Mnangagwa's aides-de-camp, was deployed to the Nyanga-based All Arms Battle School.
This came after he clashed with Auxillia Mnangagwa, the President's wife, who accused him of spying on her.
Lt-Col Mangezi took over as 1PG commander, while Lt-Col Arison Chicha took the reigns at 2PG.
Before taking charge of 1 Presidential Guard Battalion, which is next to Mnangagwa's official residence, Murombo was in charge of 2 Presidential Guard in Dzivaresekwa.
The PG is responsible for providing protection to the President and his deputies and securing Harare district.
It is a force trained to fight in built-up areas such as cities and towns.
The unit is also part of Mnangagwa's forceful presidential motorcade.
In November 2017, the unit played a major role during coup codenamed Operation Restore Legacy.
On August 2018, it crushed election-related protests in central Harare, killing 6 civilians and injuring dozens.
–The NewsHawks