"Mugabe Must Be Reburied," Grace summoned to court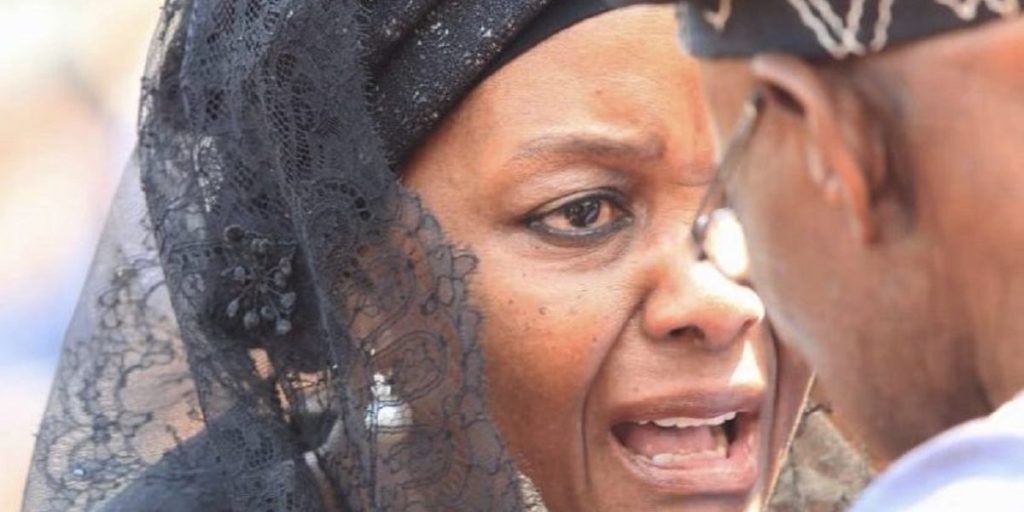 Former First Lady, Grace Mugabe has been summoned to Chief Zvimba's traditional court over an "improper" burial of her late husband, former president Robert Mugabe who is said must be reburied.
One Tinos Manongovere who issued the summons wants Robert Mugabe exhumed and reburied "properly" as per the Zvimba people's traditions and according to the wishes of Robert Mugabe's late mother. Read the summons:
Unodiwa kuDare raMambo Zvimba paGONZO GUZHA HALL, MUROMBEDZI GROWTH POINT, musi wa20 CHIVABVU (MAY) 2021 at 09:30 makuseni (am), ne mhaka inotevera yawakapara kunodiwa zvinotevera. (_You are being summoned to appear before Chief Zvimba's Court at Gonzo Guzha Hall, Murombedzi Growth Point on 20 May 2021 at 0930 over the following allegations_):
a) Wakapara mhosva ye chipini pamusaka pekuti wakatora nekuviga mufi Robert Gabriel Mugabe Mumba chinova chipini / chisakaonekwa munyika yava Zvirnba uyezve ukasiya nhumbi dza Robert Gabriel Mugabe dzave kupararira munyika. (_You're accused of committing a taboo by burying the deceased Robert Gabriel Mugabe in a house which is a violation of the culture of Zvimba people. You also let Robert Gabriel Mugabe's clothes/properties scatter._)
b) Nhumbi dzese dzaRobert Gabriel Mugabe dzinofanirwa kuno rongedzwa pamba pemufi zvichitevedza tsika dzedu dzekwaZvimba. (_All of Rober Gabriel Mugabe's clothes/properties must be gathered and stored properly at the deceased's house following our culture as the Zvimba people_)
c) Ndinoda kuti mufi anovigwa zviri patsika nehunhu hwekwaZvimba panzvimbo yakatemwa rukawo nehama naamai vemufi. (_I also want the deceased – Robert Mugabe- to be reburied according to the culture of the Zvimba people at a place chosen by his relatives and mother._)
d) Muripo we mhaka idzi, unosungirwa kuripa mombe shanu (5) ne mbudzi yemunongedzo. (_For the above-mentioned violations, you are, therefore, required to pay 5 beasts and one goat.
1) Unobvumirwa kuunza vafakazi nehumbowo hwako ku Dare. (_You are allowed to bring witnesses and evidence to the court._)
2) Kana usina kuuya ku Dare nemusi wauri kudikanwa usina kupihwa mvumo neDare, nyaya yako ichatongwa usipo ichinakira nyamumhan'ari. (_If you fail to attend the hearing without permission from the court, the court will rule in favour of the applicant._)
3) Kana uine kukahadzika huya ubvunze mutongi zuva rekutongwa kwemhosva yako. (_If you want clarity on the matter, approach the court on the date set for the hearing._)