Madzokere lost his wife to a friend, MDC A member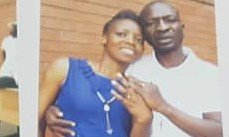 The recently released MDC activist Tungamirai Madzokere's wife was snatched by his friend and a cousin to Paul Madzorera. Zimbabwe Observer could not establish the identity of the new husband apart from his relationship with the former Health Minister of the inclusive government.
Madzorera and Tungamirai Madzokere are members of MDC Alliance. On several occasions Paul Madzorera visited Madzokera at prison but never disclosed that new development to his incarcerated comrade.
The new couple now lives in Glenview and were blessed with a baby who is believed to be 10 months old.
Madzokere shared the painful news this week. His wife took his two children to Glenview in November to start a new life with her new husband.
Madzokere 'situation is not different from his fell inmate Last Maengahama who found his wife waiting for him at their home.
"That one waited for her husband and she was looking after their children and house properly," said a close MDC friend who preferred to remain unidentified.
He added that the wife betrayed Madzokere. "It was a great betray." He continued: Vakadzi vana Mugabe nana Nkomo vakagara 11 years vakamira."
Madzokere however said he was not angry with his wife who he said described as young and beautiful.
The duo two were convicted and sentenced to 20 years in prison each on charges of murdering a police officer, Inspector Petros Mutedza, in Glen View, Harare in May 2011. They were, however, acquitted on Friday morning by Supreme Court judges who ruled that they did not murder the police officer. They are now freemen trying to pick up the pieces of their lives from where they were 10 years ago. Madzokere has an added burden now of pondering his future without his better half and children.