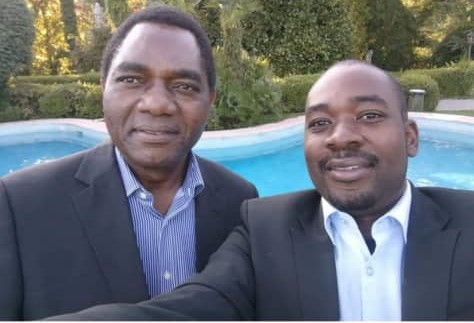 The PF which has lost mounted a typical Zanu PF campaign. Their campaign material including the font they used you would mistake that for Zanu. Due to COVID-19 restrictions most physical campaigns were stopped. It was more of bill boards for the opposition which could not help them that much. So why did the opposition win when they were at such a clear disadvantage;
Zambia's population is urban based around 80%
Zambia has struggled with tribalism especially the Nothern Province which is Bemba. They never wanted to vote for HH who is Tonga and this somehow explains why HH would always lose. Edgar Lungu, Rupia etc from the Eastern province have always benefited from the Chewa and Ngoni votes from that region.
Zambia always suffers from too many presidential candidates, this time they had 14 which normally worked against HH.
This time around HH got some alliances going which saw him breaking the PF strongholds and getting votes in the copperbelt. It seems the Bembas this time felt the importance of change regardless of tribal affiliations.
Edgar's failures were so apparent and touched on the very core of an urban based population. Price increases, unemployment, loss of key copper investors replaced by the Chinese who even were now in the Zambian Police force. The chinese were now running Zambia.
Edgar's rallying mantra this time was to have Zambia as a net exporter of Electricity in the region, this did not address the needs of a bleeding urban populace.
Corruption, Nepotism also destroyed Edgar.
Why the above cannot be easily achieved in Zimbabwe
Zimbabwe's population has a strong rural base which Zanu PF seems to speak to better than the opposition. The Urban population in Zimbabwe has its needs that may not speak to the needs of the rural masses. This then leaves this to be a game of numbers. This trend is clear in all elections.
Unlike Zambia Zimbabwe has strong western influence. This does not augur well with quite a substantial number of Zimbabweans even those who may not like Zanu. When people feel the opposition is a mouth piece of the west, it takes away trust. Zambia and most countries in the region are free from all this.
HH as an opposition leader in Zambia is a well respected astute businessman and intellect. He is seen as a man of integrity unlike Edgar Lungu. In Zim politics is run by either those who rely on donor funds or those who may have benefited unjustly. This makes it difficult to elevate the opposition on the basis of being a genuine alternative.
Those who may offer better options in Zim find it almost impossible to surpass the current power grip by those associated with the struggle for independence. Time may be the only tool to resolve this challenge given the weaknesses in the opposition.
So Zimbabwe remains different, one can choose to call this Aluta continua or Suffer continua🙏🏽
The Challenges facing HH
He was voted for by the youth, 18-35 years. They need instant results, jobs etc otherwise more problems for him demos etc
PF still retained most of their MPs, this may mean problems for HH in passing bills in parliament.
It just confirms Zambians were fed up with Edgar as a person hence could vote for PF MPs and HH as president.
New shift in voting patterns. It may no longer apply that the party with most MPs gets the same trend in Presidential votes as has been the case with most parliamentary systems. This should be a wake up call to most political party leaders.