Winning an election is a process, not a voting event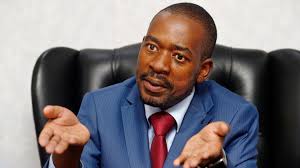 Human rights activist Abigale Mupambi says the recently held Zambian elections should be a lesson to Zimbabweans that elections are not won on social media but are won on the ground.
Opposition candidate Hakainde Hichilema of the United Party for National Development (UPND) was declared the winner of the presidential poll held on 12 August after beating incumbent Edgar Lungu of the Patriotic Front (PF) by nearly one million votes.
Speaking in an interview with on OpenParly In-depth, Mupambi said she was following the Zambian elections and drew a lot of lessons. She said:
---
I was following events on the participation of masses in the midst of COVID-19 in Zambia. Elections are not won on social media; elections are won on the ground.

So, these are lessons that we are drawing every day as Zimbabweans. We also noted in particular that we saw a good loser and a good winner that's in Zambia.

What do we mean, we know it's a game, it's an issue of power, it's an issue at the end of the day of masses on the ground. So, we need good losers and good winners like what we saw in Zambia.
She said the Zambian elections also gave hope to Zimbabwean opposition parties that they can win elections.
According to Mupambi, the way outgoing president Edgar Lungu conceded defeat should also be a lesson to ruling parties in Africa. She said:
Even the outgoing President Edgar Lungu accepting the outcomes hard as it may sound. It is a game of the people so it's an awakening call for Zimbabweans.

It's an awakening call for politicians adhere in Zimbabwe to say at end of the day it's not your ball. It's a ball for the people.

If you lose, we need good losers and we need good winners so that we can take the nation forward.

The issue must all be about the people on the ground the Zambians in the streets. The Zimbabweans are right in the streets of Harare and somewhere in the rural areas.

We Zimbabweans have already drawn some lessons from the Zambian election.

Zimbabwe's main opposition MDC A received stinging criticism from citizens for their heavy presence in the media while their structures die immediately after elections. The Nelson Chamisa MDC outfit enjoys a ground swell of support, but the party lacks sustainable strategies of constantly engaging the masses and has no capacity to be on the ground throughout the period between elections.

–-OpenParly