Alliance of opposition parties forming around Chamisa to give Mnangagwa a run for his Bond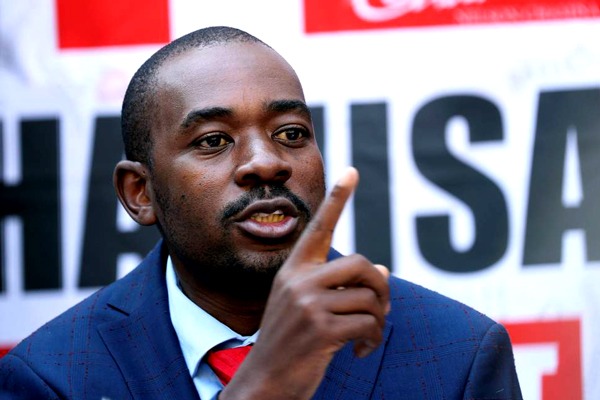 By MUGOVE TAFIRENYIKA
ZIMBABWE'S new opposition coalition that Nelson Chamisa is stitching together is beginning to take shape, with former MDC stalwart Lovemore Moyo's United Movement for Devolution (UDM) set to become part of the bloc.
This comes as Chamisa also appears to be making headway in his courtship of Zapu, as the battle for votes in the fast-approaching 2023 national elections — which are less than two years away — hots up.
At the same time, it has been confirmed that Chamisa's MDC faction is now seriously mulling a new party name in the wake of the recent reiteration by the rival group led by opposition leader Douglas Mwonzora that it will use the MDC Alliance brand in all future polls.
Chamisa has already held talks with Transform Zimbabwe leader Jacob Ngarivhume, who agrees on the need for a new opposition coalition, while negotiations with Nkosana Moyo's Alliance for People's Agenda and Noah Manyika's Build Zimbabwe Alliance are ongoing.
Lovemore Moyo, the former MDC national chairperson and founding party stalwart, confirmed to the Daily News yesterday that his organisation was set to become part of the new coalition, although talks to iron out matters of principle were still under way.
"My discussion with Chamisa over the weekend was not the first one that we have
"We have met more than three times or so discussing the possibility of co-operation ahead of the 2023 elections and we agreed that there was no other way out if we are to defeat Zanu PF.
"We have been discussing those issues at leadership level … one on one. So, when we met at the weekend, we agreed that we are going to continue talking in order to find each other and iron out those things that we think are key on our part as UMD and the MDC Alliance," Moyo said.
The former Speaker of the National Assembly also said at the centre of their discussions was defining what Zimbabweans want and "having been in politics for this long, we now know what people want across the country".
"I can confidently say that I know what Zimbabweans want. So, we discussed the idea of working together to add more strength to the opposition to fight Zanu PF's misrule.
"As the UMD, we believe in co-operative politics where those that are in the opposition come together in order to avoid splitting votes.
"We want a united stand against the Zanu PF dictatorship and misrule. That is a matter of principle.
"So, we don't have a problem working with the MDC Alliance as long as we agree on the idea of devolution," Moyo further told the Daily News.
The deputy secretary general of Zapu, Mjobisa Noko, also confirmed that his party welcomed the idea of working with Chamisa — adding, however, that they were for now concentrating on their elective congress set for October 30.
"That idea of co-operation has been thrown around and Zapu has always been for it. Remember in 2018 we were in a coalition. So, after our congress the leadership that will be elected will seriously consider the proposal.   
"We believe strongly that a united opposition front is the best vehicle to take Zanu PF head on come 2023.
"It is only that we are unable to fully consider the coalition proposal at the moment because of the forthcoming congress. But like I said, once the substantive leadership is in place, there will be movement towards that," Noko told the Daily News.
Meanwhile, one of Chamisa's deputies, Tendai Biti, said on Twitter last week that he was willing to relinquish his position to accommodate new coalition partners.
"Of course I am. Why not? This is about Zimbabwe not individuals. People are suffering my brother and we need to give Zimbabweans the best platform to fight for the change that is long overdue due," Biti said while answering a question on the social media platform.
"Comrades, why do we major in divisions? Zimbabwe needs all hands on deck, a broad Alliance.
"When we say Citizens Convergence for Change (CCC) we need everyone on board. Why don't we try love, compassion and camaraderie for a change?" he added.
MDC Alliance spokesperson Clifford Hlatywayo told the Daily News last week that his party was working towards building a new and broad coalition under the auspices of the CCC.
"The discussions between the two leaders (Chamisa and Ngarivhume) were not only about political parties, but the idea of Zimbabweans converging for change.
"We are working on the CCC where we are engaging all stakeholders, all individuals who matter, civic society groups, churches, students and political parties.
"We are moving in the right direction as we focus on bringing about real change that delivers," Hlatywayo said.
Ngarivhume also confirmed to the Daily News his meeting with Chamisa then, where the idea of forming a new opposition coalition ahead of 2023 was discussed at length.
"The meeting was a result of our intention to look at a more global approach to the situation in the country, to come up with a way forward.
"That approach is what Transform Zimbabwe and the MDC Alliance are doing. We are reaching out to various stakeholders, and as I am speaking to you now we are in a meeting with Mathias Guchutu of the Multi-Racial Christian Democrats (MCD) party.
"Whatever we are going to agree on is what the MDC Alliance and Transform Zimbabwe supporters' desire. We are listening to what the people want and how they want it to be done.
"We are excited at the possibility of a strong platform of working together ahead of the 2023 elections," Ngarivhume said.
Former MDC stalwarts and respected political analysts have repeatedly told the Daily News that the opposition is facing an impossible task to dislodge President Emmerson Mnangagwa and Zanu PF from power in the 2023 general elections if its senseless rifts are not mended.
Last week, former MDC treasurer-general Elton Mangoma joined this rising chorus saying the opposition needed to be united to have a chance of winning those polls.
"To salvage something from the 2023 elections, there should be a united opposition that is committed to getting rid of Zanu PF.
"As long as people are competing among themselves and they don't have a plan of what they will do even when they win, we are going nowhere.
"As I see it, some of the people in the opposition simply want to replace Zanu PF at the feeding trough as opposed to bringing about genuine change for Zimbabweans," Mangoma said.
"This unity should always be about ideas that bring people together, not who is the leader. Zimbabwe is not looking for another dictator in one name or the other.
"They are looking for a different system to allow those with capacity and interest to participate fully for the benefit of Zimbabweans," he added.
All this also comes as the MDC's ugly factional fights are worsening, as rival camps brace for 2023 — with the Mwonzora group now going for the kill against its bitter party rivals.
In an ominous message last week, MDC chairperson Morgen Komichi said the party was once again sharpening the axe against "recalcitrant" legislators and councillors who were continuing to pay their allegiance to the faction led by Chamisa, and was giving them a month to "mend their ways".
– Daily News