CCC brand snatched from Chamisa again, just like MDC-T and MDC A
New Chamisa outfit after losing CCC brand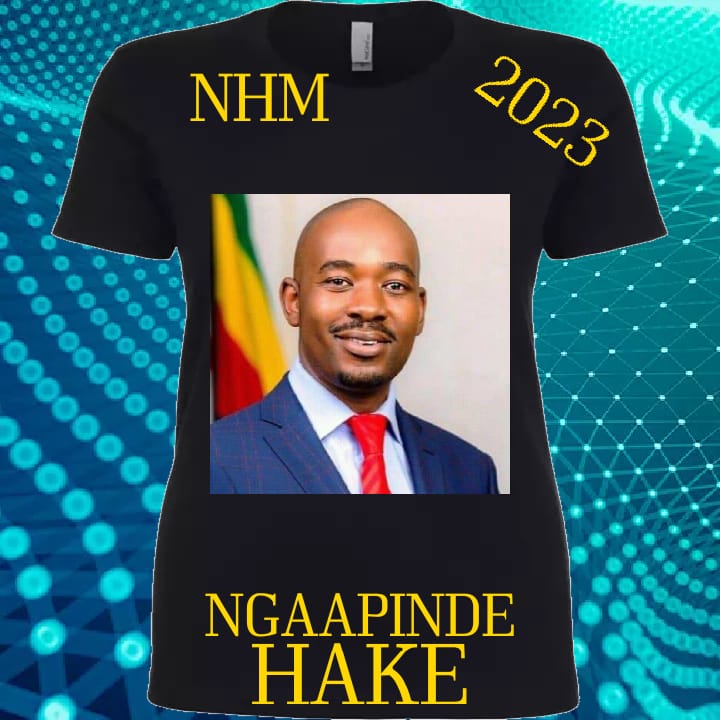 Nelson Chamisa woke up this morning to find his prospective political brand gone. The Citizens Convergence for Change (CCC), a brand which Chamisa occasionally parade as his alternative election vehicle was snatched on 8 September by a little known Varaidzo Musungu, who notified the Zimbabwe Electoral Commission (ZEC) of its existence.
In a letter addressed to the chairperson of ZEC and dated 20 September 2021, CCC Secretary-General, Farai Zhou, said the party's leader, Varaidzo Musungo, will be their 2023 presidential candidate.
Wrote Zhou:
We refer to the above and write further to our letter of 8 September 2021.
We can confirm that our Party's President and 2023 Presidential Candidate is Ms Varaidzo Musungo. Our party logo as appears at the top and bottom of this letter.
In the interests of better communication, we are sourcing offices in Harare and will advise once we have these.
The new Party's logo is slightly different from the MDC brand.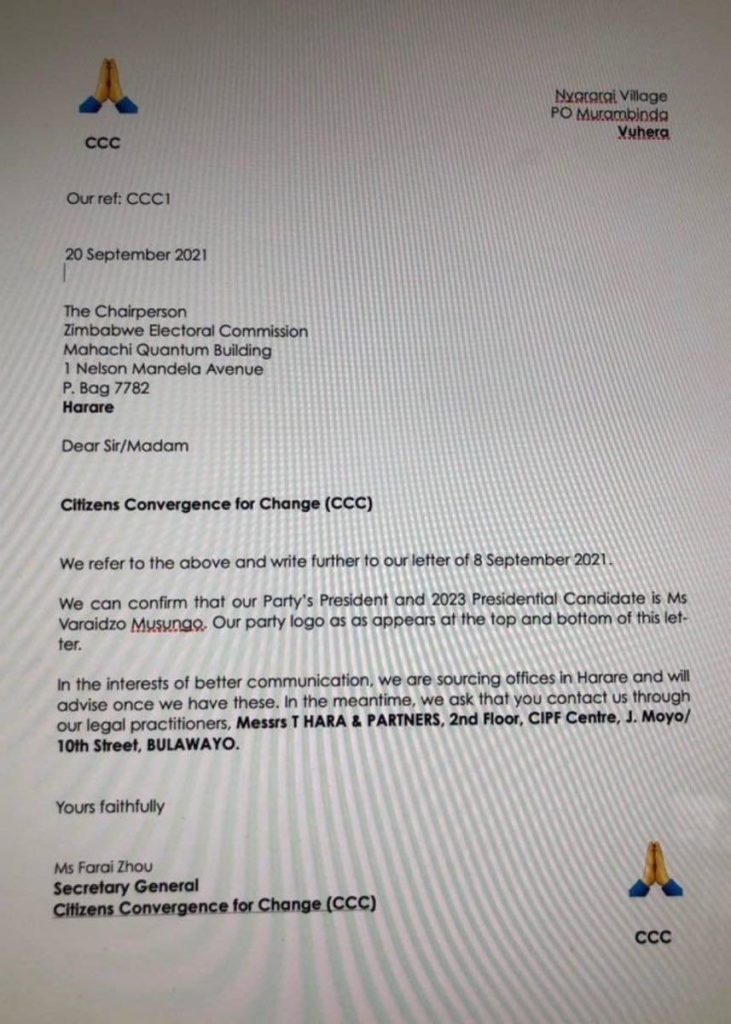 The MDC A took to social media to accuse Zanu PF of usurping their name through state agents.
"The dictator does not know that Citizens Convergence for Change is not a political party but an unstoppable idea and a new way of life," reads MDC's twitter.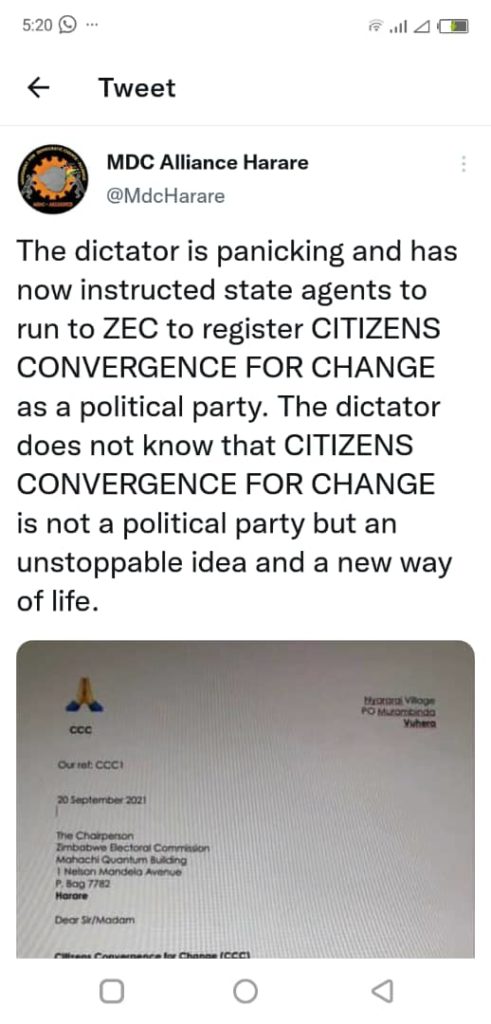 Meanwhile, exiled former ZANU PF Politburo member, Professor Jonathan Moyo, who has become a critic of President Emmerson Mnangagwa's government since his exile several years ago, early this month urged the MDC Alliance to take the necessary legal steps to protect the "Citizen Convergence for Change (CCC)" brand.
CCC has over the past few months been touted as an alternative party name for the Nelson Chamisa-led MDC Alliance after MDC-T president Douglas Mwonzora laid claim to the MDC Alliance name
In a tweet, this Monday, journalist and government critic Hopewell Chin'ono criticised the MDC Alliance for its perceived lack of strategy.
He said:
Jonathan Moyo @ProfJNMoyo warned citizens against complacency, and also the need to register CCC. Whilst many were busy insulting Jonathan Moyo, this is what the regime was busy doing! Do you now understand that numbers are meaningless without strategy?
Chamisa's keyboard warriors have now adopted a new brand, Ngaapinde Hake Mukomana (NHM) which is circulating on social media. The NHM campaigns prompted citizens to question kuti 'apinde kupi?'
The new campaign has attracted a backlash from Zimbabweans who are incensed with the MDC A's obsession with an individual. A couple of Zimbabweans urged MDC A to wage their struggle beyond Chamisa and come up with campaigns that are inclusive of the masses.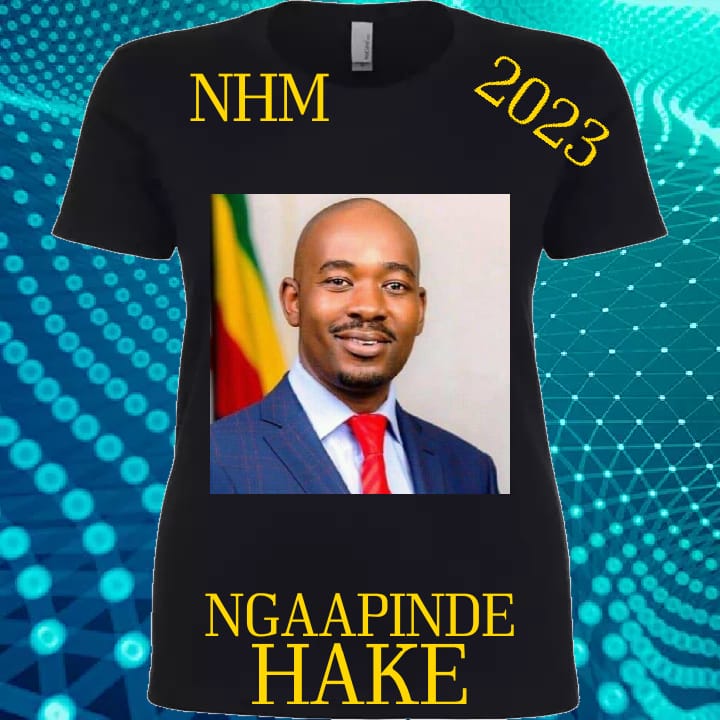 "That is the problem with these chaps. To them it is all about Chamisa going to State House. This struggle for change cannot be reduced to a mere presidential ambition of an individual, it is about improving the people's quality of life and opening up democratic spaces in Zimbabwe," said Magweru in a facebook post.
Another Zimbabwean going by the name Peblo said: "Even this CCC chorus, is centred on Chamisa because at time they call it Chamisa Chete Chete. Zimbabwe is not Chamisa's tuck-shop which he can personalise to such an extent. Such characters who feel entitled to the Presidency of Zimbabwe are dangerous. These are clear markings of a fierce dictator."
Politics is a science. It requires strategy & planning. Most importantly action to follow thru! In the days of our fathers, there were 'pungwes' followed up by action the following day. It was never a one man affair.'ngaapinde mukomana'is not a strategy.Leadership is collective!
THIS TRASH IS NOT WORTH THE PAPER it's written on. The Citizen's Convergence for Change is an unplagiarisable and unstoppable idea whose transformational momentum has come in the hearts and minds of the CITIZENS OF ZIMBABWE!