Chamisa's Convoy Attack As Fake As His 2018 'Abduction': Former Ally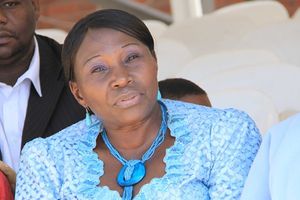 Former MDC Alliance top official Tracy Mutinhiri, who recently rejoined Zanu PF, says the attacks on Nelson Chamisa's convoy in Masvingo early on Monday was staged by the opposition party to attract international sympathy.
The opposition party's spokesperson Fadzayi Mahere shared a video footage and photos on social media which she said depicted an attack on Chamisa's convoy as he arrived in a village in Gutu, Masvingo Province, to address supporters.
"Over 200 thugs mobilized by Zanu PF have violently attacked President Chamisa's convoy and advance team on their way to meet community leaders in Masvingo," Mahere said. "They stoned cars, barricaded roads with burning logs and assaulted members of our team who've now been hospitalized."
She added that Chamisa was in good spirits and the planned address of party structures would go ahead.
However, former Labour and Social Welfare Minister Mutinhiri told the Zimbabwe Voice an interview that Zanu PF youths were too busy on the fields and other productive activities to even think of unleashing violence on a "directionless party".
"We are clear as Zanu PF that the alleged attack on Chamiss is stage-managed to seek relevance and international attention ahead of summits and visits to Zimbabwe by top UN diplomats," said Mutinhiri.
"I was in that party led by Chamisa and ndobasa ravo iroro rekugadzira manyepo (they're so good at faking the attacks). Whenever there is an international event they stage manage negative events to tarnish Zanu PF's image. Our youths are busy kuminda," said Mutinhiri.
Mutinhiri says the nation must remember the incident when Chamisa also "faked" his own "abduction" along the Harare-Mutare highway in November 2018.
–ZimVoice