Jonso and Mzembi deny rumours of re-joining Zanu PF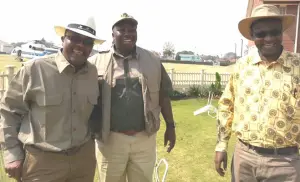 Exiled former cabinet Ministers Professor Jonathan Moyo and Walter Mzembi refuted reports that they might be rejoining the ruling party ZANU PF as reported by the  former Chivi legislator Killer Zivhu on Twitter on Tuesday.
Moyo said he owned his freedom of speech and association.
"Nhai @killerzivhu1, zvinenge zvafamba sei mumsoro wako kuti utwite tunyaya twemangamanga twakadai so? If you want to be credible and believable, stay away from tweeting nonsense about me. I own my freedoms of association and speech, nobody else will exercise these rights for me!" Moyo tweeted on Wednesday.


Mzembi dismissed Zivhu as naughty for including his name on the list.
At least for me, the inclusion is political naughtiness," said Mzembi in an exclusive interview with Zimbabwe Observer.
When asked to comment about his G40 colleagues' chances of re-joining Zanu PF, Mzembi said: I don't know, n'ombe yega yega inozvikumira pakadai."
On Tuesday Zivhu had said he has it on good authority that the fomer G40 Kingpin including Saviour Kasukuwere, Mandi Chimene and walter Mzembi were rejoining the revolutionary party.
"Jonso, Kasukuwere, Muzembi, Chimene, and the rest to join Zanu pf soon, I don't keep secrets dzinechokuita ne Nyika. Because I want a better Zimbabwe ndichirikurarama, that's the reason I always." Zivhu had said.
Moyo was expelled from the party by the new dispensation after the coup that ended 37 years of the late Presidnet Robert Mugabe's rule.