State bans farmers from selling maize to anyone except GMB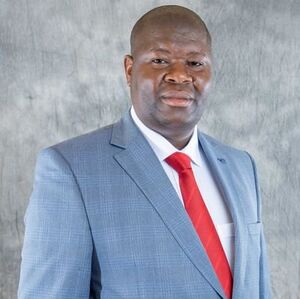 Low grain deliveries by farmers have triggered panic in Zimbabwe, just days after an official claimed the country was food secure.
According to the ministry of lands, agriculture, fisheries, water and rural development, just 5,000 metric tonnes of maize have been delivered to the Grain Marketing Board (GMB) since the marketing season opened on April 1.
Officials are now threatening to implement draconian measures allowing the GMB, which holds the state's grain reserves, to seize any grain that has not been delivered to its silos.
John Basera, the secretary for lands and agriculture, has ordered the GMB working with security services to conduct what he described as "grain busting operations" to seize large stocks of maize held by farmers, including intercepting its movement.
Farmers are reluctant to sell their maize to the GMB over low prices. A tonne of maize is pegged at Z$75,000 by GMB, which is now less than US$180, compared to regional prices of around US$310.
To encourage maize deliveries, the GMB recently announced that it would pay United States dollars for 30 percent of the maize delivered and the other 70 percent in RTGS dollars. Farmers say late payment by GMB invariably means the local currency component is worth much less when they are finally paid, and many prefer to sell to private millers.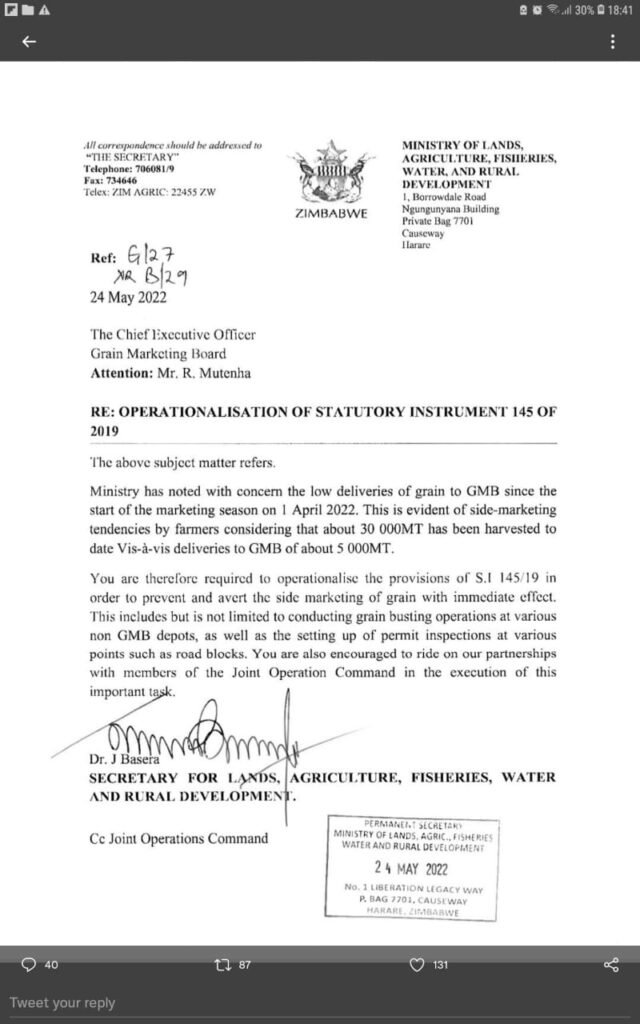 Now the government says it is going to implement provisions of Statutory Instrument 145 of 2019 which states that "no person or statutory body or company or entity shall buy or otherwise acquire any maize from any farmer or producer otherwise than through the Grain Marketing Board."
The law also bans the transportation of bulk maize from one area to another.
"A producer of maize or farmer is permitted to transport not more than five bags of maize of a capacity not exceeding 50 kilogrammes per bag from one area of the country to the other without any authorised person or police officer having to confiscate the maize," it says.
Basera said the low grain deliveries were "evidence of side marketing tendencies by farmers considering that about 30,000 metric tonnes have been harvested to date vis-a-vis deliveries to GMB of about 5,000 metric tonnes."
He said in a memo to GMB boss Rocky Mutenha, dated May 23: "You are therefore required to operationalise the provisions of S.I 145/19 in order to prevent and avert side marketing of grain with immediate effect. This includes but is not limited to conducting grain busting operations at various points such as roadblocks. You are also encouraged to ride on our partnership with members of the joint operation command in the execution of this important task."
The Second Round Crop and Livestock Assessment report estimates Zimbabwe will harvest 43 percent lower grain than 2021 due to erratic rains.
Last week, it was revealed that private millers were importing 400,000 metric tonnes of maize from Zambia and Malawi after the government suspended import duty on listed basic commodities.
The revelations prompted questions over Zimbabwe's maize stocks. Basera issued a statement insisting that the country was "food secure."
He maintained: "We are food secure on account of 1.8 million metric tonnes of grain production this year, plus 500,000 metric tonnes in reserve."
The panic in government evident in Basera's memo to the GMB will raise new questions about his claims of 1.8 million metric tonnes of maize output this season.