Grace Mugabe's alleged "father" dies of Covid 19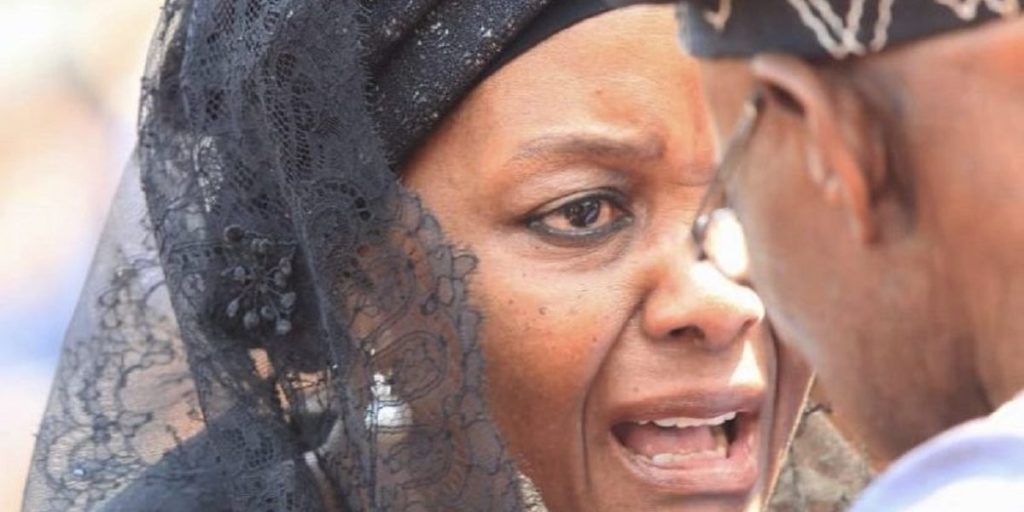 Former first lady Grace Mugabe's alleged father Morgan Mugumba (88) has died of Covid 19 complications and was buried at Mkoba cemetery on Thursday afternoon.
Mugumba in 2014 took the world by storm after he claimed that the former first lady Grace Mugabe was one of his daughters from a failed marriage.
He told the media, including The Sun, 8 years ago that he was born in 1934, and had a child with Grace's mother but the two divorced while she (Grace) was still an infant.
The mother reportedly went to live in Lalapanzi, a farming settlement near Gweru in the Midlands Province, where she subsequently married another man.
"The two (Grace's mother and Morgan) had marital problems that started when my wife was still pregnant and she left immediately after giving birth. At the time I was a shop assistant in Shurugwi," said Mugumba.

The Sun news crew visited the Mugumba family home this afternoon and spoke to family members who confirmed Morgan's death.
"Morgan started complaining of severe flu-like symptoms and we started giving him lemon tea and he refused to go for a check-up at the hospital. He later started experiencing shortness of breath and was taken to Gweru Provincial Hospital but later passed away," said the wife.
Grace Mugabe
However, other family members and elders from nearby villages interviewed by the press in Shurugwi also testified that Mugumba was Grace's father, but were not sure what problems led to the two's separation.
"He (Mugumba) has not been open about the divorce and it seems it is something that bothered him. However, he has in the past made attempts to reconnect with Grace, but we are not sure what happened. When she married that soldier (Stanley Goreraza), he did not receive any lobola but our culture says his in-laws should at least have sought his blessings," said another family member.
There were disagreements among Mugumba family members, however, on whether Morgan deserved recognition from Grace, considering that he hardly looked after her.
"Grace is of the Zhou (Elephant) totem, which is our totem and, in our ways, she needs to come back to him no matter how badly he treated her. Even if she doesn't have to give him money, it is required by our culture that she acknowledges the fact that her blood is Zhou blood and that can't be wished away," said another sibling.
"She might be bitter with Mugumba and her mother might also have been angry that he did not give his daughter love, but that is common and we have married so many daughters who came looking for their fathers even though their fathers had rejected them," he added.
Grace never used the Mugumba name, but Marufu, her maternal surname.
The Mugumba family members said the First Lady went to live at the Marufu farm in Chivhu sometime after her mother married the "colored" (mixed blood) man from Lalapanzi.
Grace's first marriage was to Stanley Goreraza, formerly an Air Force of Zimbabwe pilot, and they had one son, Russell. She married President Robert Mugabe in 1996 and they have two sons, Robert and Chatunga, and a married daughter, Bona. During both marriages, the husbands engaged the Marufu family
–thesunnews