Love him or loathe him, Wiwa is the man of the moment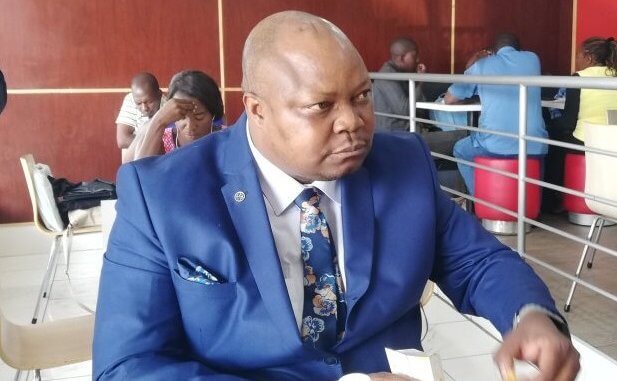 By Sibanengi Dube
Love him or loathe him, Job Sikhala is the man of the moment. He is a darling to millions of starving Zimbabweans who are in sync with his cause. He is one person President Emmerson Mnangagwa would love to hate for outsmarting and dribbling past his goons.
Not only has he taken the fight against corruption and human rights abuses to his doorstep, he has also out-performed his colleagues and bosses in the MDC Alliance where he is the vice-chairman.
The Zengeza MP dropped out of sight a few weeks ago to punt citizens protests against the rampant looting of state resources and escalating human right abuses by Mnangagwa's regime. The wily Sikhala occasionally breaks his cover to galvanise his army of supporters with eloquent and boisterous videos are beamed though their smart phones.
Buoyed by his determination to see Zimbabwe freed from suffocating grip power by Zanu PF, Sikhala abandoned the comfort of his home to live a life of a freedom fighter in the bush. He doesn't have  access to cash or any amenities, but is surviving through the generosity of Zimbabweans who are falling over each other to accommodate and feed him as he ducks and dives through the clutches of the snarling state agents who are after his soul. Wiwa is one of the most persecuted leaders of MDC, joining Tsvangirai and Ndabaningi Sithole on the list of Zimbabwe politicians to be charged with treason by the Zanu PF government. The fiery Wiwa has been in and out of the dock not less than 50 times over spurious charges that range from murder, rape and treason. He was the first top MDC leader to be subjected to inhuman savage torture which included being forced to drink his urine apart from genital electrocution. Wiwa and Musekiwa attracted the satanic torture from Zanu PF after they delivered Tsvangirai's assurance to the late Airforce Marshal Perence Shiri that the military would not face retribution in the MDC government.
He is dangerously armed to the teeth, not with modern artillery but with the truth, knowledge of the law and genuine desire to right the wrongs foisted upon Zimbabweans over the years. He harbours no ambitions to be president of Zimbabwe, but is propelled by the will to stop the rot which is engulfing the southern African nation.
Speaking to Zimbabwe Observer from underground, Sikhala said he was prepared to pay the ultimate price, adding that his eyes were not fixed on the State House, but on extricating long suffering Zimbabweans from state sponsored penury. The teary Sikhala occasionally breaks down as he grapples with the magnitude of suffering he witnesses everyday in the streets and villages of Zimbabwe under the heavy burden of Mnangagwa's murderous regime.
"If we don't stop this nonsense now, our children will live a miserable life like us because our government doesn't think about its citizens. These guys are only interested in stealing from us and abusing anyone who dares complain," said Sikhala who enjoys a massive following across the political divide.
When asked during a telephone interview, how he is managing in the bush Wiwa said, "Kudenga uko kuna Mwari mwana wamai vangu."
Zimbabwe is on the edge of an economic abyss which has the potential of rocking the entire region. It is a moment in history reminiscent of 2008 when civil unrests led to the formation of a Government of National Unity (GNU) in February 2009.
"Looting of national resources and deepening human rights abuses are leaving Zimbabweans with no option apart from putting a stop to this madness," he said adding that he was powered by goodwill of the masses and God.
Sikhala is working with members of other political parties, civic societies and unions in the July 31 Movement (J31M), in organising the protests. Wiwa, as he is affectionately known, described his current struggle as above petty political party lines.
"This is a national movement of Zimbabweans who are suffering and starving. Poverty doesn't segregate along party lines. So why should we not embrace each other as Zimbabweans and confront our tormentors?" asked Wiwa.
J31M is a broad-based citizen's movement which draws memberships from millions of Zimbabweans based in and outside of Zimbabwe. It intends to peacefully execute its mandate by staging non-violent protests against the government for the deepening economic crisis, looting of state resources, abductions, torture and abuse of its citizens. The movement aims to encourage citizens to participate in governance issues.
Wiwa, a top Harare lawyer, views J31M activities as apolitical, maintaining that his agenda was citizen-driven.
The movement's planned peaceful protests of July 31, were met with state brutality targeting principal organisers of the event. More than 14 activists are hiding, with police and state security agents trawling residential areas looking for them. The brutality has not spared journalists.
Hopewell Chin'ono is in jail on trumped-up charges of inciting people to revolt against the government. He has twice been denied bail by compliant judiciary officials. ZimLive editor Mduduzi Mathuthu is in hiding following a police raid on his house. They failed to find him, so they arrested his sister as bait. She was later released. However, they came back for his nephew, Tawanda Muchehiwa, whom they beat up so badly that he is now-bed-ridden and has been transferred from a private clinic where he was being treated to Mpilo Hospital in Bulawayo, for dialysis.
Political activist Jacob Ngarivhume is also in jail facing similar charges. He, too, has been denied bail twice.
Wiwa became a member of parliament for St Marys in 2000 at the tender age of 25 years alongside his friends Tafadzwa Musekiwa and the late MDC firebrand politician Learnmore Jongwe. The trio were part of the UZ Student Representatives' Council leadership which changed the quality of student politics in Zimbabwe.
Wiwa literally hopped from a university classroom into Parliament riding on the back of the newly-formed labour-backed party, the Movement for Democratic Change, led by the late Morgan Tsvangirai.
Sikhala is one of the few MDC leaders who remained with the people in the townships instead of moving to affluent suburbs.
Although he can be easily mistaken for a carefree character, Sikhala is disciplined and resolute on anything he lays his eyes on. After graduating with a history degree at the University of Zimbabwe, he enrolled for a law degree at the same institution. He is now practising law and also finalising his masters, also in law, with Midlands State University.