MDC A under siege in Midlands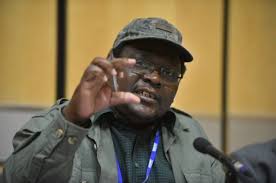 By Dr. Takavafira Zhou
Zanu pf has entered a panic mode arresting and abducting MDC Alliance supporters willy-nilly.
Tamuka Denhere was abducted in Mkoba on 12 August and dumped at Harare Central police station where he is now detained.
In Kwekwe the hexillion of Midlands Youth chair, Sekai MuChaina Marashe; Mbizo ward 5 cllr, Melody Chingarande; Mbizo ward 12 cllr, Washington Moyo, leaders Tinashe Nyamushosho, Lovemore Savanhu and Musenwa were brought to court on trumped-up charges today. Soldiers and riot police drove away other people who had turned up in solidarity with the hexillion on claims that the accused wanted to stage a demonstration after the hearing.
The hearing was postponed to 3 September and the hexillion escorted from the court by soldiers and riot police to allegedly forestall a demo that the accused never intended to carry out.
Another cllr, Mkaro was apprehended and briefly detained at Central for allegedly attending an unlawful meeting. However, when police failed to exactly point to such unlawful meeting he had attended, he was released without a charge.
It is evident that MDC Alliance supporters in Midlands province are under seige as police seem to be trigger happy to arrest them without carrying any investigation.
As Midlands province we urge Zanu pf to mellow down to a more constructive approach permeable to reason and facts and to realise that MDC Alliance supporters are not second class citizens.
The police must also act in a non partisan manner and should never arrest in order to investigate, but rather investigate in order to arrest.
MDC Alliance supporters must be treated with the dignity and inalienable rights as any other Zimbabweans and human beings.
The naked and outright violations of the rights of MDC Alliance supporters must be stopped forthwith. If the law continues to be selectively applied and peace loving citizens brutalised, there will be no option other than using any means possible to defend ourselves and our rights as citizens. To be forewarned is to be forearmed. 
The state can never be built on the basis of violence and trampling people's rights but on the basis of peace, stability and respect of inalienable rights of citizens.

Dr Takavafira M. Zhou is the MDC A spokesman of Midlands Province