Bullets fly at Zanu PF's primary elections in Kwekwe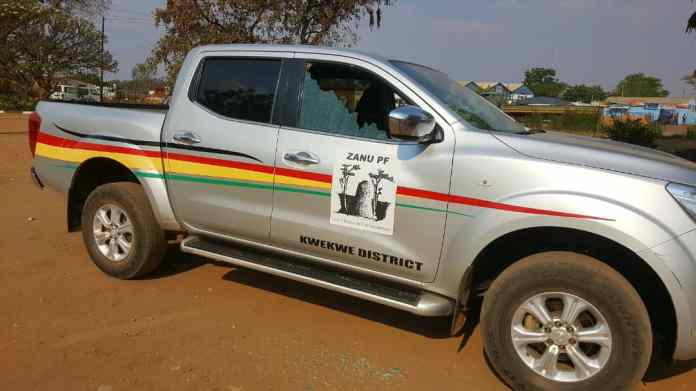 Riot police exchanged gunfire with thousands of Zanu PF supporters at the party's district HQ in Kwekwe following demonstrations against suspected manipulation of the primary elections to nominate a Party candidate to contest the vacant Kwekwe Central Constituency.
Party members alleged that a team led by one Rtd Col Dr Kahuni and Party's provincial vice chairperson, Robert Nyathi was bribed to sway the election results in favour of Kandros Mugabe, the Party's 2018 losing Kwekwe Central parliamentary candidate.
The use of ZEC voter's roll in the primary elections sparked the bloody confrontation with Party supporters who preferred Party Cells/wards registers to be used.
The tense situation further degenerated into physical confrontation when it emerged that the majority of Party supporters were not appearing on the ZEC voters' roll. Police fired live ammunition and tear gas canisters, but were over powered by the multitudes.
So bad was the exchange which left several police officer injured and scores of Zanu PF members dripping with blood sustained from bullet wounds.
Several vehicles parked inside the district HQ yard were damaged during the disturbances.
Mugabe, a 47 year old Bishop has locked horns with a 26 year old, Energy Ncube, who is affectionately known as Dalla.
The vacancy arose in July after the death of the 56 year old Legislator, Masango Matambanadzo, who was popularly known as Blackman.
Onlookers wondered how Zanu PF will respond to external threats if bullets could fly during an internal contest.
"Judging by Zanu PF's determination to use such immense force in an internal election, then opposition contestants and supporters face lethal force in the coming elections," said Tafadzwa Jairo, a Kwekwe resident.
Remarked another Kwekwe resident, Chamunogwa Jonera, who heard the barking guns as he was carrying out his daily errands: I hope that they will wipe off each other from the face of the earth in the fights in order for us to enjoy peace in Kwekwe."