Exiled G-40 in bitter fallout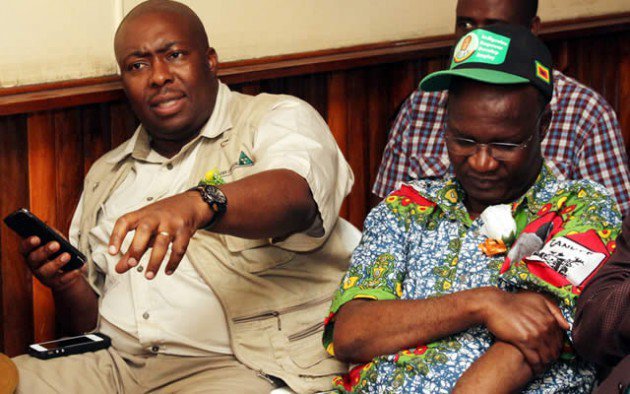 Staff Reporter
HARARE — There is a bitter fallout among senior members of the exiled G-40, if yesterday's Twitter spat between Jonathan Moyo and Saviour Kasukuwere is anything to go by. The two's dramatic escape from Zimbabwe under a volley of bullets and gun powder from the marauding military elements of the 17 November 2017 coup is no longer strong enough to glue them together.
Moyo snapped at Kasukuwere for including him in his tweet.Kasukuwere tweeted using a pronoun 'we' only to be shot down by Moyo, who openly told 'Tyson' to exclude him from his pronouncement.
"We have made the point that it's a disputed political process. I don't recognise the AK and kangaroo process. Constitutionalism must be restored in the party, government and country," said Kasukuwere, in response to the Zimbabwean government's  attempt to extradite them to the troubled country. They all face charges of abuse of office.
To which Moyo responded by asking Kasukuwere to explain who he was referring to as 'we.'"I'm not sure who the 'we' is; but I for one don't share the view that constitutionalism must be restored in Zanu PF. That's water under the bridge. Besides, Zanu PF is a political party & not constitutional body. Politics, not constitutionalism, moves Zanu PF & all political parties." 
"We — I and another or others not including YOU," answers back Kasukuwere.
Ripostes Moyo: "I note with thanks that I'm EXCLUDED in the 'we'. Much appreciated!"
The G-40 enjoyed the tacit support of the late Zimbabwean strongman Robert Mugabe and is up to now a headache to President Emmerson Mnangagwa. Former first lady Grace Mugabe was touted as the possible G-40 candidate to succeed her husband, but the plan went up in smoke when 'Ngwena', as Mnangagwa is known, launched a military coup led by his current deputy and then army commander, Constantino Chiwenga, to dispose Mugabe of both positions as party and State president.
The G-40 members escaped capture by Ngwena who was keen to put them under lock and key.
Moyo and Kasukuwere vanished into thin air on the eve of the coup only to emerge in Mozambique riding motorbikes.
The duo is now living in exile, with Moyo domiciled in Kenya — his wife's home country —  while Kasukuwere is holed up in South Africa.
Other members of G-40 who escaped, include Patrick Zhuwao, nephew to Zimbabwe's late dictator, Walter Mzembi, former foreign affairs minister and Godfrey Gandawa, former higher and tertiary education deputy minister.