ED bids farewell to outgoing SA ambassador Mbete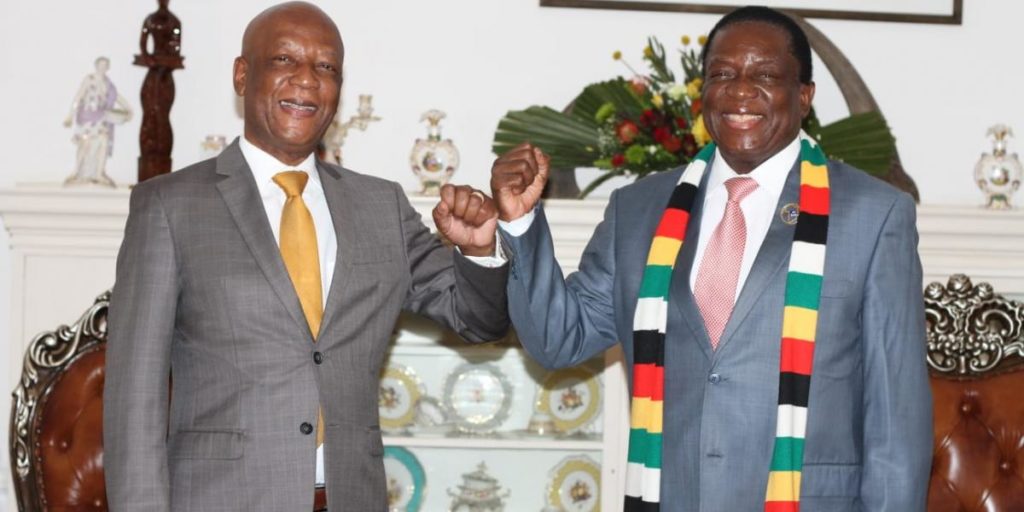 President Emmerson Mnangagwa bade farewell to the outgoing South African ambassador Mphakama Mbete at State House on Monday morning.
The South African Ambassador's tour of duty is coming to end after serving in Zimbabwe for four and a half years.
In February this year, Mbete told the Mnangagwa administration not to tinker with important economic institutions for political gain.
Mbete made the remarks during a Political Actors Dialogue (POLAD) economic summit. He said then:
Public institutions are key to proper economic management and must be allowed to pursue their mandate in line with the policy framework and legislation that establishes them.

These institutions are important to provide a stable and predictable economic environment for business to thrive.

… Zimbabwe has presented itself to be open for business, which we believe is an appropriate approach to developing this country and economy.

However, in order to attract significant flows of direct investment, it is import that Zimbabwe improves its record concerning the following issues; security of tenure and investment protection; repatriation of proceeds by investors; the honouring of bilateral trade and investment agreements; the need to open up the economy to competition and establishment of new credibilities, lastly optimal debt servicing.