Overweight slay queen Mbuya Nehanda statue unveiled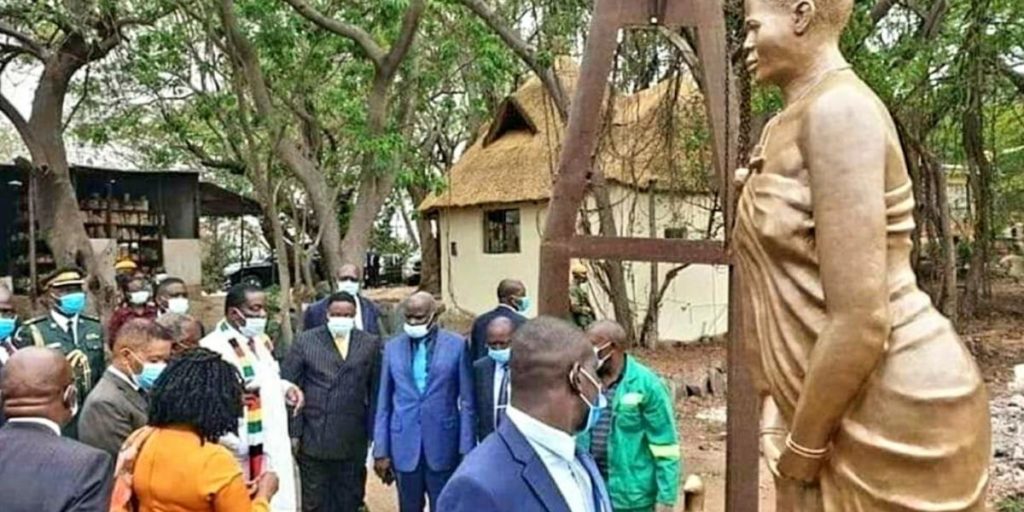 Some Zimbabweans have taken to Twitter to scoff at the Mbuya Nehanda statue following President Emmerson Mnangagwa's visit to Nyati Gallery near Snake Park, where the statue is being made by sculptor David Mutasa.
On Tuesday, President Mnangagwa said the construction of the statue is important as it shows future generations that the country has a rich history of liberation heroes. He tweeted:
Yesterday we celebrated our past heroes and our future champions. The construction of the monument in honour Mbuya Nehanda is nearing completion.

It is vital that we show to our children and grandchildren that Zimbabwe has a rich history of heroes that fought for our freedom.
We have gleaned some of the critical views expressed on Twitter by Zimbabweans about the erection of the monument.
Elnathan Chiteve: That Mbuya Nehanda statue was eating a lot. She has gained a looooooottaaaa weight.
Alex Magaisa: The sculptor might as well have added a Brazilian!
Fadzayi Mahere: If it's genuinely about history, revamp the History curriculum in schools to ensure an unadulterated, uncorrupted & apolitical version of History is taught to learners. This curriculum must be set by an independent panel. This statue is an unproductive waste of resources.
Instead of wasting money on a statue that won't improve people's lives, Mbuya Nehanda could've been better commemorated by increasing funding to Mbuya Nehanda Maternity. Why waste money like this in a nation where millions are food insecure & maternal mortality remains a scourge?
Hopewell Chin'ono: "The sculptor might as well have added a Brazilian (hair)," joked UK based Zimbabwean academic and lawyer, Alex Magaisa @Wamagaisa Millions of dollars have been sunk in the making of the Nehanda statue whilst women are dying giving birth at Mbuya Nehanda Hospital lacking basics.
Zenzele: Building statues when we have no Covid isolation centres.#Asakhe
Chief Chikos: You spend millions building a stage to put a statue then you come up with a fake statue of Mbuya Nehanda.
Nkululeko Sibanda: I saw pictures of you visiting a statue of some Mbuya, someone said its Mbuya Mnangagwa (not sure if it's true), I hope they don't rig and put her up as a decoy Mbuya Nehanda.
Kunta-Kinte: This statue should be called Mbuya "Nehanda the Slay Queen". Surely this statue does not resemble the mbuya nehanda we were told and in pictures. We are distorting history by erecting that one.
–Pindula