MDC A accusers are more Zanu PF than Zanu PF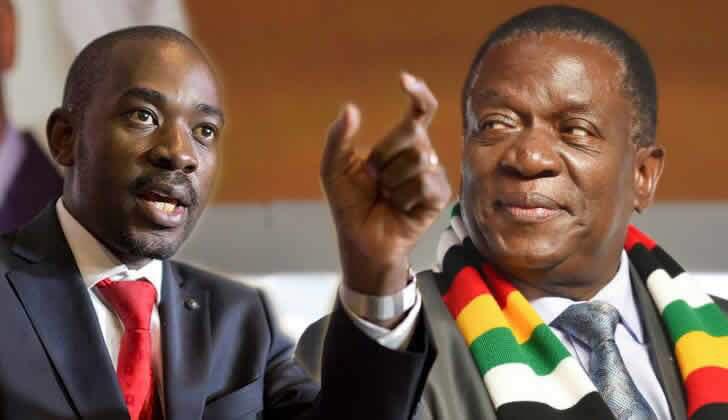 By Tambanavo Chamanyawi
All is not well in opposition politics with accusations and counter accusations among its members of being Zanu PF proxies. So frequent are the slurs that different outfits of the MDC are spending most of their time defending their corners instead of strategising on how to counter the Zanu PF onslaught. The ruling party is having the last laugh.
Zanu PF is rubbing its hands with glee as the so-called opposition is on each other's throats. Anyone not singing hoarse, praising Nelson Chamisa is labelled a Zanu PF plant. Those like Lillian Timveos, Blessing Chebundo and Obert Gutu who have openly joined Zanu PF have been vilified. Acres of social media space was used to snipe at them for dumping the Chamisa Chete Chete (CCC) brigade. Whatever happened to freedom of association? Douglas Mwonzora, who now leads the MDC T outfit has been a recipient of stinging remarks from the time he outlined his vision for the future, which was viewed by some as embracing the government of President Emmerson Mnangagwa. He has been accused of singing for his supper. Anything contrary to what the MDC-A leadership says is frowned upon and attracts vituperative comments from keyboard soldiers of the CCC Brigade.
Independent-minded MDC-Alliance leaders like Tendai Biti and Job Sikhala are not spared either. They are viewed with disdain by the CCC Brigade for eclipsing the popularity of their favoured leader and are quickly given the Zanu PF proxies tag. It is a fact that Zanu PF has caused untold suffering to Zimbabweans and the majority needs change. However, that change will not come about when the opposition is in such disarray and lacking focus. It is very unMDC but very Zanu PF to give Chamisa a monopoly of the leadership of the opposition. Anyone with a good vision and good qualities can. Besides, nobody should be disparaged for joining any legal party of their choice in Zimbabwe. The ruling party remains a legal entity and no one should be criminalised for joining them.
There are also double standards at play in opposition politics. They, just like many people in Zanu PF, are in politics for the money. MDC-A officials who have been fingered in the illegally parcelling out of land around Harare have profaned the moral uprightness of the late Morgan Tsvangirai's party. High flying MDC officials' desperate attempts to hang on to their official cars even after being recalled from Parliament serve to confirm the Zanu PF filament which they are made of. This appetite for pleasure and leisure is contrary to Tsvangirai 'spirit of servant leadership.
The kind of deception which masses are subjected to by Zanu PF is exactly the same treatment they are getting from MDC-A. To suggest that MDC-A is completely different from Zanu PF when revelations of corruption are flying in fast and furious is absurd.
Allegations citing Chamisa and his brother Starman, the Mbare MP, as beneficiaries of a Harare land allocation scam are now in the public domain. I cannot think of any reason why such unmitigated abuse of power is not receiving intense public scrutiny the same way when a Zanu PF leader is implicated. Corrupt acts by MDC chaps are just as terrible as those committed by their Zanu PF counterparts. What about the former Mayor of Harare Jacob Mafume who is accused of parceling out a stand to his sister?
Most Mayors in councils run by MDC-A were imposed — from Harare to the Victoria Falls. This explains why we ended up having such an unrefined Chap, Herbert Gomba as the mayor of Harare. Chamisa himself flouted the MDC constitution by overtaking Khupe from the left. The courts had to knock constitutional sense in his head to make him realise that he illegally took over power after Tsvangirai's demise. Such unbridled disregard of the Party constitution is very unMDC but fits well in a Zanu PF system. Overlooking such clear traits of a dictator in the making has the danger of producing another youthful and vicious 'Mugabe.'
The masses are being taken for a ride by a few 'clever' MDC A characters who conveniently cohabits with Zanu PF whenever it suits them. The masses' emotions are rented to pave way for vana Tsuro Magen'a to access the public tills. Democracy and all kinds of freedoms are paraded as the reasons for all the heckling of Zanu PF characters, while concealing their insatiable desire to be Members of parliament, councillors, and Mayors. These 'wise-men' from the East are sweet talking their way to the feeding trough using the people's suffering as political fodder. There is absolutely nothing wrong about aspiring for public office, but such a desire should not be openly motivated by paraphernalia of such positions. MDC A is defining the enemy for the masses who should respond by venting out anger and hatred towards the adversary. The enemy we are supposed to chase are individuals in Zanu PF not a system. The kind of deception which the masses are subjected to by Zanu PF are prevalent in MDC A. To suggest that MDC A is completely different from Zanu PF when revelations of corrupt parcelling of stands have become permanent features in councils run by MDC A is a negation of naked facts.
Zanu PF is system. It is neither an individual nor the Shake-Shake building. The Zanu PF system manifests itself in the form of poor governance, corruption, and abuse of citizens. The same with the MDC-A whose leaders are duplicating everything that defines Zanu PF. They are just like Zanu PF but their only difference is in their party regalia and slogans. In fact, MDC A went a notch higher. How do they explain not paying party workers for two years despite receiving payouts under the Political Parties Act? How come Charlton Hwende and his recalled colleagues are still clinging to parliamentary privileges such as vehicles and diplomatic passports? The red brigade is in power in most urban councils. So, known MDC-A leaders own stands, blocks of flats and houses — from Chiredzi to Chirundu. Such undisputed looting fellows are the least qualified to accuse anyone in Zanu PF of corruption. MDC chaps who went to bed with Zanu PF during the Government of National Unity (GNU) came out richer than their wildest imaginations. The poor and loyal masses who supported them were conveniently forgotten during the GNU. Instead, the few who made it into government employed their relatives and cronies ahead of supporters who they only think about around elections. Kwanzi keke iduku kana kuti havana capacity. The masses are being treated unfairly on both sides of the political divide.
Zimbabweans will be interested to know why Nelson Chamisa led an entourage of Emmerson Mnangagwa and General Constantino Chiwenga to Morgan Tsvangirai's house when he was on his last days on earth. Since when has Mnangagwa and ZANU PF became the friends of Tsvangirai and the MDC that Mnangagwa would be taken to see MT during his hour of prayer needs. This is a matter of using one finger to point at others as Zanu PF while the other four are pointing at the accuser. Is it not questionable that Chamisa rubbished as "stupid" those who came out on 1st of August 2018 to support his attempts to snatch the highest office in the land?
Why is Chamisa user friendly to ED instead of leading his 2.6 million supporters to confront ZANU PF?
Make you own judgement as to who is more Zanu PF than others.
––Tambanavo Chamanyawi is a Zimbabwe journalist and political commentator based in Cape Town. He writes in his own personal capacity and his expressed views are not necessarily shared by Zimbabwe Observer