Scramble for chicken found wondering in the bush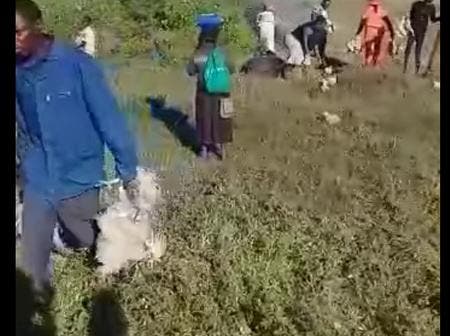 Poverty and hunger forces people to accept and expect food from mysterious sources.
Poor residents from Dididi outside Thohoyandou did not inquire the source of chicken found wondering in the bush, instead they scrambled to catch them to fry and eat.
It was manna when the chicken mysteriously appeared alongside the Nandoni Dam, situated next to the Dididi Bridge. , Residents woke up to find hundreds of chickens swarming the nearby bushes.
No one knew where they came from, but the wondering chicken were all in the residents' pots and fridges within a few hours. As if that was not enough mystery, more hundreds of other chicken appeared again fours days. The second flock of chicken suffered the same fate which was endured by the first one. The residents caught, slaughtered and ate them.
Community leader Phanuel Mathebula of the local civic association confirmed the incident.
"We are very concerned about this windfall as we do not have any knowledge as to who dumped them here. What if these chickens are infected and our people get sick or even die after eating them?" Mathebula asked.
He added that for someone to buy chicks and feed them to the stage of selling and then just dump them in the bushes was most surprising.
An anonymous villager said the chicken offering felt like a blessing in disguise as meat is a luxury most of the residents cannot afford.
She said when she heard that there were chickens in the bush, she dashed there with her children and they managed to get 15 of them.
The local traditional leader, Chief Lyboen Azwitamisi Mbubana, said the local community was still in disbelief over this strange occurrence adding that the community should not consume these chickens since they are not sure of their source and whether they are safe for consumptions.
–iHarare