CIO in attempts to exhume, rebury Mugabe – Mawarire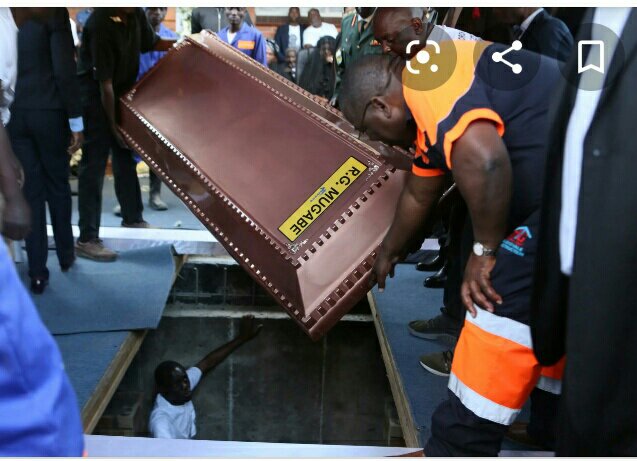 National spokesperson of the National Patriotic Front (NPF) Jealousy Mawarire, who was a close ally of the late former President Robert Mugabe has claimed a Central Intelligence Organisation (CIO) operation has been put in motion to exhume the former's president's remains and rebury them at the National Heroes Acre for occultic purposes.
In a Twitter thread, Mawarire said the operation also involves a ZANU PF Central Committee member, local traditional leaders including Chief Zvimba, a Cabinet minister from Mashonaland West Province and a local lawyer. Wrote Mawarire:
The Junta-PF coup govt has run out of ideas on turning around the economy & bizarrely, Idhii now believes exhuming Pres Mugabe's remains will turn around the fortunes of his beleaguered govt. Consequently, a CIO operation to exhume RGM's remains has been set in motion.
The CIO operation includes mobilising Zvimba chiefs, led by Chief Zvimba, to force Mugabe's family to agree to RGM's exhumation & subsequent reburial at Heroes Acre.
A villager, Tinos Manongovere has been identified & has since made a complaint to Chief Zvimba that RGM was "improperly" interred in a courtyard at his rural home, therefore his widow, Grace, should appear before Chief Zvimba's court in a bid to arm-twist her into acceding to the Junta-PF demands to have RGM's remains exhumed & reburied at the Heroes Acre.
A Zanu-PF central committee member who identifies himself as a Gushungo clan member, a Minister from Mashonaland West & a local lawyer have been roped in to look at ways how the exhumation can be done. However, the lawyer has raised several questions over the envisaged exhumation.
In communication between the Zanu-PF Central Committee member, the Mash West Cabinet Minister & the lawyer, the Harare lawyer questions the CIO operation to exhume RGM's remains that the Central Committee & Cabinet Minister are fronting.
The lawyer questions how feasible it is for RGM's remains to be exhumed even if "Mai Mugabe is found to be culturally wrong" in burying RGM at his rural home. He asks "So let's assume the traditional custom finds Mai Mugabe was on the wrong side culturally what will they do?
"Charge her so that vanongo ripa nyaya yopera yakadaro?" The Zanu-PF Central Committee member replies: "If found guilty, then corrective measures will be taken to properly bury RG"
The lawyer reminded the Zanu-PF member that "the issue of who decided his final resting place was & is a preserve for his wife & children alone. Chief Zvimba must exercise extra caution on this matter, if he failed to claim his rights b4 burial how can they recognised only now?"
The lawyer argues that "Because the issues of burial yava Mugabe was debated & covered in newspapers until it was finally said he was going to be buried in Kutama, the Judges will say why didn't you apply for an injunction without delay."
The lawyer further observes that " The world may want to see justice applied to enable permanent protection of his (RGM) legacy" & warns that "the above questions will definitely arise because the late R.G.Mugabe was an international star."
It's interesting that at a time the world is grappling with a devastating Covid-19 pandemic, Idhii's coup govt prioritises exhuming Mugabe's remains for occultic reasons. What has happened to Vision 2030? Is exhuming RGM's remains a prerequisite for the success of vision 2030?