UPDATED: Mberengwa robbed of a great educationalist, soccer enthusiast Dr. Jonathan Mswazi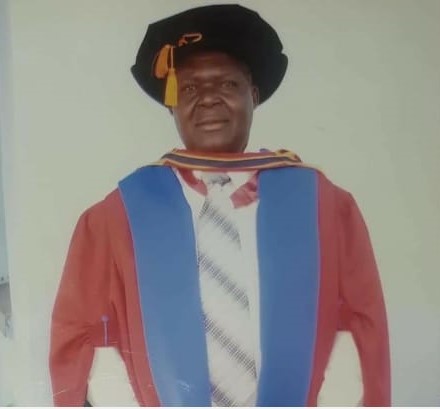 By Sibanengi Dube & Dr Takavafira Zhou
Mberengwa has lost one of its gallant sons, Dr Jonathan Mswazi, who died yesterday in Masvingo The exact cause of his death has not yet been publicly disclosed but some of his family members who saw him a few days ago suspect COVID-19.
Doctor Jonathan Mswazi was born in Rusvinge area of Mberengwa where he did his primary education before enrolling at Chegato High School in the 1974-1977 for his secondary studies.
He taught at Chegato High School in the 1980s and early 1990s where he earned recognition as a school soccer coach of the first grade. He put Chegato High School, a rural mission school on the national soccer map after he snatched the highly contested National Chibuku trophy in 1986 when he Churchill in-front of a home crowd. In 1987 Chegato missed the National Coca-Cola cup by a whisky after losing penal shoot-outs to Msitheli at BF stadium.
Tacitly backed by an equally focused and hard working boss, the late Isaiah Masvayamwando Shumba, Mswazi bagged most of the annual ELCZ soccer tournaments trophies. "Muhondo!" was his clarion call to his soccer players at Chegato.
Indeed coach Mswazi nurtured some of the best soccer players who went on to join the Premier Soccer league like Isaac Malunga, who was known as Fonyo in soccer circles. Fonyo is one of finest goal-keepers to come out of independent Zimbabwe and is ranked within the class of Japhet Mparutsa. Some of the soccer wizards he groomed include David Ndlovu whose pitch name was Dee, Ian Malombo, dribbling supremo Robert Godoka, Luganie Ngavi, Trust Sithole whose soccer trade name was Tonto, maverick defender, Bhudi Garai Shumba, Zakeo Phiri famously known as Rama Chuchu, Muneri, Jolo, Sando Phiri and the flying midfielder Antony Phiri, who is now a Doctor in Environmental Science.
Dr Mswazi's soccer success kept Chegato community on a permanent celebratory mood which led to the famous 1986 strike. This followed after the ELCZ removed the late Tererai Mavivi Hove from the helm of the school for slaughtering a beast for the students each time Mswazie brings a soccer trophy home. It became an every weekend event as the soft speaking Mswazie continued to bag trophies each time his boys grace the soccer pitch.
The gangling Mswazie did not only score in the soccer pitch but in the classroom as well. Mswazi was part of a breed of teachers at Chegato who were competing to produce As in their subjects. "To Mswazi and his colleagues, just a mere pass mark was not good enough, it was a matter of As," said a former Chegato High School student, Dr. Nephat Shumba, a lecturer at a UK University.
Mswazi served under the feet of another celebrated late educationalist, Isaiah Masvayamwando Shumba who rose from Maranda to be a Deputy Minister of Education in the late Former President Robert Mugabe's government. Other high profile teachers who worked with Mswazi include the respected late historian Ananias 'Dande' Shumba, Francis Hove, current Headmaster of Mnene Mission, the ever bubble-gum chewing astute Divinity and History rabbi Norman Zhou, C. Chimwanda, Cash Shava, Cecil Hove, Samson Nyengera, E. Tembo, Rev Lazarus Hungwe, Charity Mashavakure, M. Mutande and many others.
Dr Mswazi later left Chegato for Masvingo Teachers' College, where he distinguished himself as a lecturer. He continuously rose the academic ladder to become a lecturer in Education at Great Zimbabwe University where he worked with another respected Mberengwa educationalist, Dr. Takavafira Zhou.
"I had the opportunity to work with him. Indeed Dr Mswazi fought a good battle in his life time, guarding jealously against the trenches of folly and ignorance. He was also an ardent christian, and an elder in the Lutheran Church," said Dr Zhou.
Mswazie is survived by his wife, Florence and three children, Josphine, a fourth year student at Chinhoyi University, Michael a first year learner at the University of Zimbabwe and Esther who is in grade seven.
It is not yet clear if the dearly departed will be buried at his farm in Masvingo or will be laid to rest at their family homestead in Rusvinge in Mberengwa. Watch this space for details.
Go well Dr Mswazi, Dube, Mpedzegwa, Pavazhira, Wamanava, mutenda ndayambuka gwizi gwavembe, ganda ravasikana rinotedza. You fought a good battle in your life time.
Rest in peace Mhizha.