1st phase of Beitbridge border modernisation project complete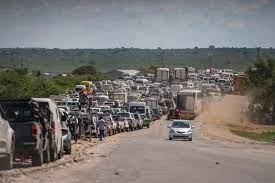 By Tinashe Mutazu
THE first phase of the 300 million United States dollar Beitbridge Border post Expansion Project is now complete, with a two-week dry-run test now in motion.
The dry-run test which will run for two weeks is set to trouble shoot the newly opened freight that is expected to ease business transactions at the port of entry and pave way for the implementation of the One-Stop Border Post between Zimbabwe and South Africa.
Permanent Secretary in the Ministry of Transport and Infrastructural Development, Engineer Theodius Chinyanga says government agencies are already undergoing familiarisation and training, with the new freight terminal expected to be officially opened next month.
"The new freight terminal will accommodate immigration and customs, the police, and all other border agencies offering related services. The border has been automated and designed to enhance a speedy flow of in and out going traffic…"In terms of management at the border mostly will be automated which will have little human interface from the dry run they are doing people are spending very little time than they used to spend at the border. The latest development will see One-Stop Border Post travellers and cargo will be cleared once for entry/exit in both countries," said the Permanent Secretary.
The Chief Executive officer of the Contractors, Zimborders, Mr Francois Diedrechsen revealed they are now geared to move to the second and third phases of the modernisation project.
"We are proud to say we have reached a point where phase 1 is completed by the end of this week and commence with work on phase 2 and 3 which include the construction of the new terminals for buses, light vehicles and pedestrians," he said.
Immigration authorities at the border post are excited by the massive infrastructure upgrade, singling out the freight terminal as key to powering the wheels of industry.
"For us here who are witnessing this massive infrastructural development, it is going to culminate in the best expectation in terms of cross border movement. The new freight terminal will pay attention to the needs of the freight industry and ensure that wheels are turned as efficient and as fast as possible….mixing of trucks and passengers will be a thing of the past to ensure efficiency," said Mr Nqobile Ncube Assistant Regional Immigration Officer Beitbridge Border post.
The Second Republic is on a massive infrastructure rehabilitation and modernisation across the country as the nation gravitates towards an upper middle income economy by 2030.
–ZBC News