Meet the lady who bashed Peter Mutasa to snatch the ZCTU presidency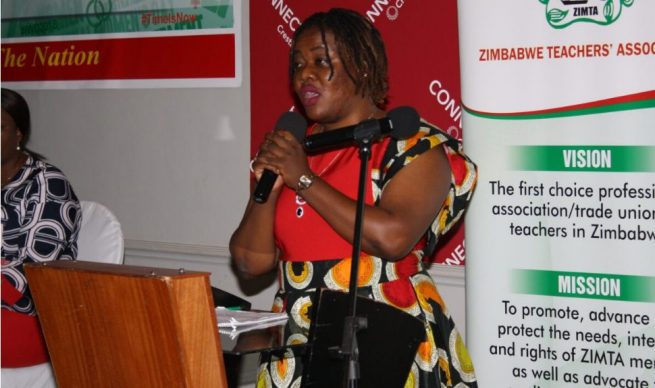 FLORENCE Taruvinga was Friday elected as the new Zimbabwe Congress of Trade Unions president after garnering the majority of votes at the just ended 9th elective conference held in Harare.
Taruvinga, an Energy Sector Workers Union of Zimbabwe (ESWUZ) senior official polled 73 votes ahead of the outgoing ZCTU president and Nelson Chamisa's ally, Peter Mutasa who polled 59 votes.
She has broken the gender record, becoming the first woman to lead the federation.
However, the elective conference was held under a tense atmosphere amid allegations a Zanu PF aligned faction was well oiled to oust the outgoing Mutasa administration.
Media coverage was sealed-off with journalists gathered to cover the event being turned away.
"Voting was conducted smoothly and no record of violence was recorded at the tense highly contested event," a source told NewZimbabwe Saturday morning.
Valentine Chikosi was elected as the ZCTU's first vice president. Chikosi is from the Zimbabwe Revenue Trade Union, second vice president post went to Nicholas Mazarura of the Zimbabwe Construction and Allied Trades Workers Union with the third vice president seat going to Runesu Chipamangauta.
The Food Federation and Allied Workers Union of Zimbabwe's Runesu Dzimiri was elected the first deputy secretary-general while the treasurer-general position went to Douglas Chiradza also from the National Energy Workers Union of Zimbabwe.
Taruvinga's ascendency immediately aroused excitement on Zanu PF-linked social media handles marking a climb down from the stance taken against Mutasa's era which was characterised by a hostile relationship with the ruling party.
@zanupf_patriots became one of the first ones to pour out congratulatory messages.
"Meet Florence Taruvinga the new @ZctuZimbabwe president!! Florence Taruvinga defeated Peter Mutasa to become the first female president of the Zimbabwe Congress of Trade Unions."
"Good riddance!! @ZctuZimbabwe President @MutasaPeter has lost the giant labour body's presidency to Florence Taruvinga"
@Jamwanda2, who is George Charamba, President Emmerson Mnangagwa's spokesperson tweeted: "Peter akwapaidzwa!!! @Artuz_teachers yashaikwa pamap!!!Marombe!!!"
– NewZimbabwe