Tagwirei gift to Guvamatanga is bribe: lawyers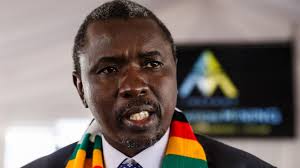 Tagwirei gift to Guvamatanga a bribe, lawyers say as outrage grows over splurge
HARARE – Treasury secretary George Guvamatanga's acceptance of lavish gifts from corruption-accused business tycoon Kudakwashe Tagwirei is legally questionable, lawyers have said.
Guvamatanga spared no expense last Friday while celebrating his 50th birthday with three South African performers – Mafikizolo, Makhadzi and Louis Mhlanga – flown in to entertain selected guests.
Tagwirei, the biggest beneficiary of government contracts in the last five years, showered gifts on the government paymaster, pledging a private jet, US$50,000 in spending money, an executive box at the Emirates Stadium in London and a shirt signed by Arsenal captain, Pierre-Emerick Aubameyang.
"We're on sanctions, but we make things happen over there (in the United Kingdom)," Tagwirei boasted, referring to travel and financial sanctions imposed on him by the United Kingdom in July for "poisoning the well of democracy" through corruption.
Lawyer Tinomudaishe Chinyoka, who has been on President Emmerson Mnangagwa's legal team, said Tagwirei's gift to Guvamatanga reeked of corruption.
"Given the allegations against the giver and how he benefits from certain decisions by the ministry of finance, the question 'what is he paying for' is a valid one," Chinyoka said.
Prominent legal eagle Advocate Thabani Mpofu said the gift by Tagwirei was a bribe.
Mpofu said: "Guvamatanga is the government paymaster and Tagwirei is the biggest beneficiary of some of the most shady and undue payments made under this government."
Under Guvamatanga, Tagwirei's company, Sakunda Holdings, redeemed government treasury bills at up to ten times their official value, accelerating the devaluation the Zimbabwe dollar.
Through his company, Fossil Group, Tagwirei is also receiving millions of dollars from treasury for road construction contracts, while another of his companies, Landela Investments, has reportedly received US$110 million from the government to import buses, without going to tender.
Tagwirei has also concluded an opaque deal with the government, combining his mining assets with those of the government to form a company called Kuvimba. Tagwirei's mines were formally owned by Sotic, one of whose shareholders, South African Christopher Fourie, refused to sign off on the transaction.
When Tagwirei fell ill last year with Covid-19 earlier this year, Fourie revealed that Guvamatanga took over negotiations to ensure he goes away quietly, the Financial Times reported.
"Kuda is currently incapacitated… happy to talk to you though," Guvamatanga told Fourie in messages which date from a period earlier this year when Tagwirei was flown overseas for treatment.
"I can assist on this matter but not when you are threatening everyone like this," he said. "You need to focus on what you personally want to get out from all this. Everything else will not help you."
In another message, Guvamatanga said: "In the absence of KT (Kudakwashe Tagrirei) I have been speaking to Obey on your matter. To enable me to push for a solution may you send me a summary of what you would regard as a full and final settlement claim. It is in our interest to have this matter urgently resolved amicably."
The Obey that Guvamatanga was referring to is Obey Chimuka, an associate of Tagwirei who fronts some of his companies, including the Fossil Group.
Fourie told the Financial Times he sent Guvamatanga a proposed deal to sell his shares in Pfimbi, a subsidiary of Sotic, to Tagwirei.
Fourie said Guvamatanga and Tagwirei "appeared to be very close and I would classify them as personal friends." Meeting the civil servant to discuss Tagwirei's business affairs was "probably not appropriate," Fourie admitted. But, he added, "it is the only way business is done in Zimbabwe."
Tinashe Murapata, an economic analyst, said: "From a corporate governance perspective, Guvamatanga should refuse the gift from Tagwirei.
"From a public finance perspective, it spells disaster when the main beneficiary of the condonation bill (parliament pardon for over expenditure) is gifting the country's treasurer."
The lawyer Chinyoka believes Guvamatanga has committed a sackable offence, describing him as "tone deaf and exhibiting misplaced arrogance" after he declared he would be topping up Mhlanga's birthday performance fee five-fold (video above).
On Sunday, Guvamatanga defended his extravagant party saying he could not "pretend to be poor".