Woman burnt to death after ex husband set her house on fire for refusing to reconcile with him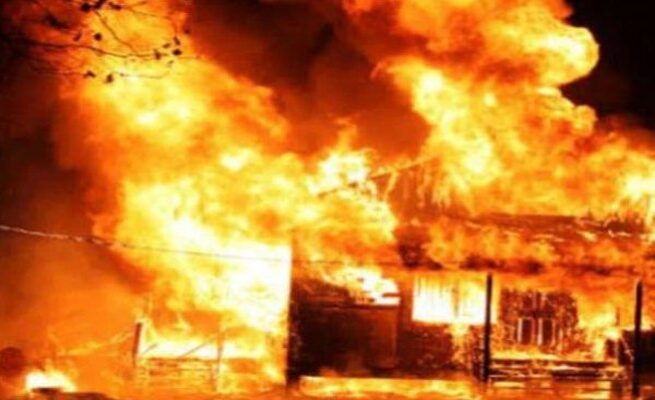 AN Odzi woman was burnt to death, while her minor children are battling for life at Victoria Chitepo Provincial Hospital following a gruesome arson attack linked to her ex-husband.
The suspected arsonist, George Chiringa of Almar Farm also in Odzi, who is still at large allegedly doused the two-roomed rented cottage with an unknown flammable substance before setting it on fire.
Chiringa, who is said to be a Mozambican national, is alleged to have had a relationship with Enia Mutemera(49) before, and they were blessed with a child.
Mutare Criminal Investigations Department spokesperson, Detective Sergeant Coleen Mbato, confirmed the incident which happened at Nyamatsine Township in Odzi on Monday night.
"Mutemera and her three children, Lizzie Nyamanhindi (16), Rutendo Nyamanhindi (12), Ruvarashe Mutemera (8), and a grandson, Owen Jimu retired to bed after locking the main door of their cottage from inside.
"An unknown accused person who is believed to be Mutemera's ex-husband went to the cottage and tied the door with a wire from outside. He poured an unknown flammable substance and set the cottage on fire. The arsonist disappeared soon after," said Detective Sergeant Mbato.
He said the victims yelled for help and a neighbour, Ms Stella Musaidzi (37), rushed to the scene.
She managed to unlock the door with the help of other neighbours and rescued the five victims who had sustained serious burns.
They were rushed to Victoria Chitepo Provincial Hospital for treatment.
Mutemera later died on Tuesday from the burns sustained during the arson attack.
Detective Sergeant Mbato said the victims were suspecting Chiringa to be the perpetrator as he had scores to settle with Mutemera.
Detective Sergeant Mbato said: "Sometime in 2019, the now late Mutemera had a misunderstanding with Chiringa. He assaulted Mutemera with an iron bar and she sustained head injuries.
"The matter was not reported to the police since the two made a mutual settlement of the matter. Mutemera was admitted at Victoria Chitepo Provincial Hospital where she was treated and later discharged."
It is said that sometime in 2020, Chiringa and Mutemera separated.
Detective Sergeant Mbato said Chiringa tried to reconcile with Mutemera, but she would not budge.
"Mutemera told Chiringa to pay lobola first before they could reconcile, but he failed to do so. On September 23, Chiringa went to Mutemera's cottage, and threatened to burn her, together with her children in the cottage since she was refusing to reconcile with him. Lizzie Nyamanhindi informed her sister, Tendai Mutemera (24) about Chiringa's threats," said Detective Sergeant Mbato.
It is alleged that a few days prior to the arson, Chiringa went to Mutemera's residence and made further threats to her.
"Upon receiving the threats, Mutemera informed her neighbours, Ms Musaidzi and Ms Melody Dongorore. She asked them to assist her in the event Chiringa attacked them," said Detective Sergeant Mbato.
Police have since launched a manhunt for Chiringa.
– Manica Post