DA, ANC and ActionSA are at Julius Malema's disposal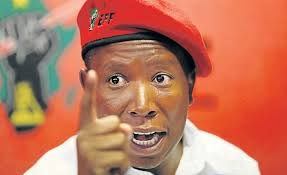 The biggest winner of the just ended municipal elections in South Africa is leader of the Economic Freedom Fighters (EFF) Julius Malema. Not Democratic Alliance's John Steenhuisen. Even Herman Mashaba of ActionSA did not reap as much as Juju did.
The kind of political equation which Malema is building will be solved by 2024 elections.
Malema managed to place everyone in polical spaces that he can manipulate. The Commander-In-Chief of the fighters is in command and his commanding tentacles extend to all parties in South Africa. Any political conscious citizen who is still ruling out EFF in the 2024 matrix of South Africa needs to invest more effort in trying to read the equation correctly.
DA is exactly where the Commanders wants it to be. The blue brigade's mayors in Johannesburg, Tshwane and Ekurhuleni owe their mayoral chains to the Commander. They are at his mercy. They thought they were victors yet are victims of Malema's electoral gymnastics. He trapped them in a tight corner and made them to suck a sweet which he will pull away as soon as they get addicted to it.
In as much as juju appointed Mpho Phalatse, Randal Williams and Tania Campbell to the helm of Gauteng metros, he surely can disappoint them at any time. DA surrendered their mayors to Juju's benevolence. Steenhuisen cannot guarantee his deployees safety of tenure, but Juju can. DA would have gained more by not fielding mayoral candidates in Gauteng Metro, than accepting comforts of a nest built out of EFF feathers. Such a nest stands to be withdrawn as a time when the DA needed it most.
The ANC is grumbling from a bed of political misery which only Juju can relieve them from such an unpleasant and nasty posture. The Comrades are hooked to the accoutrements of power and will not skip any opening to jump back onto the gravy train. The next time Juju invites them for another round of coalition talks, they will sprint to grab such an opportunity at whatever cost.
ActionSA comes handy for Juju as a political side kick. The Commander is assured of tacit backing from Mashaba who is overtly parroting everything that comes out of Juju's mind. Whenever Mashaba gets his foot wrong on any issue, Juju doesn't hesitate to publicly rebuke him as a political novice who needs his fortitude. This explains why Juju frantically attempted to sneak Mashaba back to the helm of Johannesburg City Council through both a DA and ANC coalition. The former COSAS boss knows that in Mashaba, he has a listening and compliant 'Black like me' partner.
Other smallnyana political parties like UDM, IFP, African Christian Democratic Party, Freedom Front Plus, Good, cope and many others seem available to Malema whenever he needs political nibbling to offset minor political irritations.
The 41-year-old Seshego boy is cooking politics as other political stakeholders wait for his pot to eat. Steenhuisen was shocked to see Malema setting political penalty shoots-outs for him even though they had a fall out during coalition negotiations. EFF voted DA in power without any political arrangements. EFF claims that the motive was to keep the corrupt ANC away from power. Steenhuisen least expected EFF and ActionSA support. He was found off guard, but was able to see that the votes were more against the ANC than for DA. He however expects a short political honeymoon, clearly admitting that the survival of his party's governments in Gauteng Metros were determined by Malema's mood.
Johannesburg Mayor Phalatse has already expressed her willingness to take orders from Malema. Yes! The first female Johannesburg Mayor seems not prepared to be fired from the big job before eating.
Singing from a different hymn book from her DA boss, Phalatse said: "The people of Johannesburg did not give DA a clear majority; therefore, the party cannot be expected to exclusively implement its manifesto without consultation with other political parties."
This is a similar approach which was used by former Johannesburg Mayor, Mashaba, which eventually put him at crosshairs with his then party bosses.
Phalatse has limited options. She must dance to Malema's tune to stay a little bit longer or else she might find herself an ordinary councilor before the end of the year.
With or without any coalition DA mayors must placate Malema to enjoy paraphernalia of their offices for a couple of months.
The duration of DA mayors' stay in power will be determined by the time Malema will take to hammer a deal with the ANC. The commander will play DA and ANC against each other to get what he wants. The desires of DA and ANC to counter each other in offers to Malema is growing stronger by day. The DA is a mere bait here, employed to hook the ANC into giving in to Malema's demands. The Commander will be happy to send DA packing from the Gauteng Metros as soon as ANC yields to Juju's demands.
And this is inevitable.
–Sibanengi Dube is the Publisher of Zimbabwe Observer