Killed 21-year old robbing soldier had love for money
The late Tariro Gora was a rogue soldier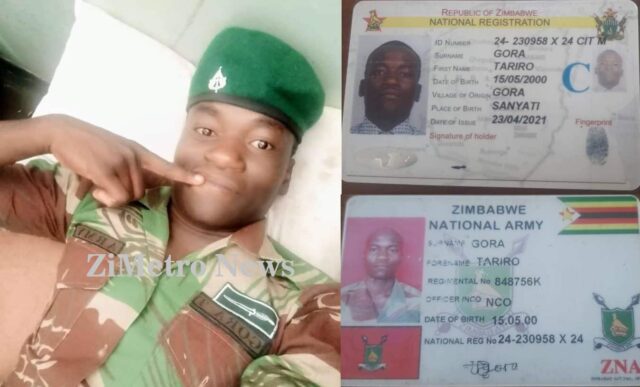 …. extravagant life style exposed
POLICE national spokesperson Assistant Commissioner Paul Nyathi has described the late Tariro Gora as a rogue soldier who escaped from duty with a service rifle, but people who knew the slain soldier have described him in very colourful and unkind terms.
"Police investigations led to the recovery of a .22 rifle fitted with a telescopic sight, a 303 rifle loaded with seven live rounds and an AK47 magazine loaded with 25 live rounds hidden in Tariro Gora's room at 1 Commando Barracks in Harare," Nyathi said.
The 21-year-old soldier who was based at One Commando Barracks in Harare was shot in the head and bled to death on the floor of a Chadcombe home he and four others had invaded for robbery.
Owner of the home, former CID marksman Joseph Nemaisa, raced back home after receiving a distress call from his 18-year-old son that some men were burgling into the home. He came back and shot Gora and two other robbers.
The other two who escaped have since been arrested. The two are serving member of the Zimbabwe National Army (ZNA) Virimai Nyandoro, 37, and former police Support Unit Constable Francis Takura, aged 33.
It must be a sad end for Gora, who was only into his third year after being attested into the army in Mashonaland West province under Sanyati district.
Sharing the news in a Gokwe social media platform monitored by ZiMetro News, people who claim to know Tariro described him as a charming young man who however had a "disturbing love for money".
"I was his teacher in Form 4 and he displayed an unusual, disturbing love for money, I remember the day I overheard him saying he could do anything for money, including joining Illuminati networks and homosexual groups," revealed a lady who said she was Tariro's English Language teacher for a year.
"I'm vindicated that this boy's life ended this way. He was friends with my cousin and I always raised the issue that this soldier was up to no good," another man pointed out.
"I always found it disturbing that a junior soldier on a Government salary could afford the lifestyle he lived when out there off duty. He bought expensive wines and even once came home with a hired car, all the way from Harare," the man added.
While the 21-year-old had a residence inside the Barracks, friends who knew him said he had a "slaughter house" near Goromonzi turn-off.
"Last time I met him in August, he was renting out a cottage at a farm house near Goromonzi turn-off. He called his cottage the slaughter house, as he brought in many different young girls for sleepovers each time he was off duty.
"Ladies were deceived by his decent looks and saw him as a charming young lad, but deep inside him was a heartless killer and robber.
"It's a sad way to die this way considering how his siblings looked up to him," another observer said.
Several others roundly lambasted Gora saying his life's end must be a lesson to all youngsters in the Sanyati farming and mining community who he had "misled".
"He misled many locals near Baptist there into believing that there's something called quick buck in life. I don't celebrate death but here I am celebrating that our community has one problem less," another member observed.