PTUZ dismisses govt salary offer as high sounding nothing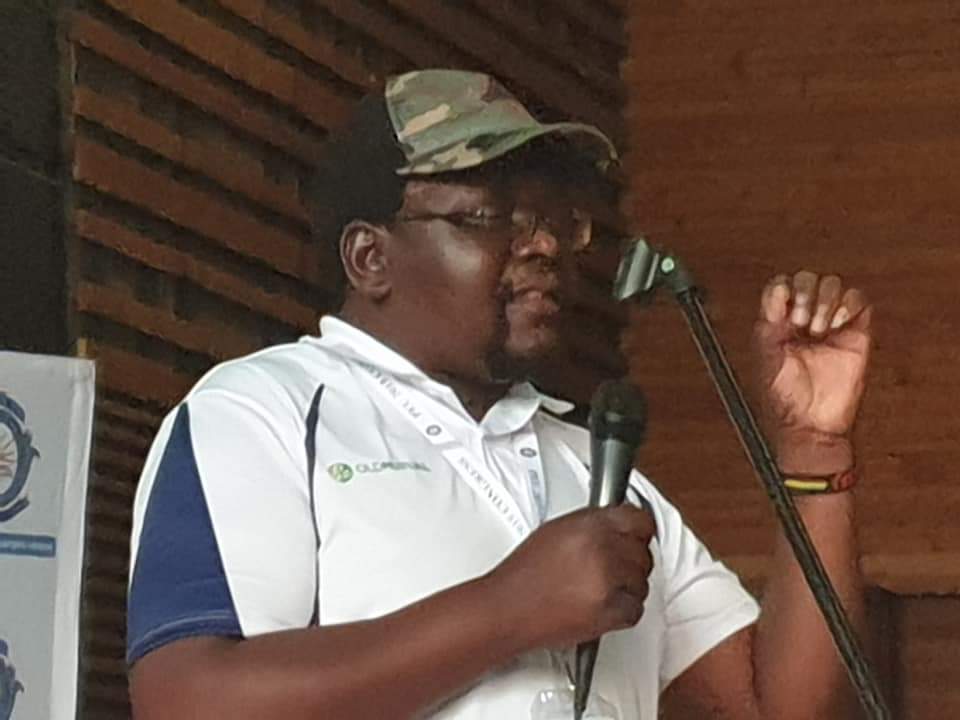 Progressive Teachers Union of Zimbabwe (PTUZ) President, Takavafira Zhou has dismissed the government 's recent salary offer to teachers as vague.
Zhou said the offer was far short of the teacher's minimum expectation of US$540.
"The offer lacks clarity and above board implementation matrix. It is also not a subject of collective bargaining but unilateral offer by gvt. It falls far short of teachers' minimum expectation of US$540," said Zhou.
Zimbabwe Observer present the PTUZ statement below:
The so called 'better offer' by PSC Minister, Prof Mavima, is now out and there is very little better in it, if any. It is, however, a historical truth that this minor adjustment was a product of the collective effort of all teachers across the union divide in Zimbabwe, contrary to some elements who are guilty of selective forgetfulness and would claim easy victories.
The offer is as follows:
Of the current salary an RTGs equivalent to US$100 would be deducted and paid in hard currency with effect from 1 March 2022.
Of the remainder, there will be a 20% increase backdated to 1 January 2022.
Gvt plans to introduce advancement award recognising seniority and differentiation within the same grade across the entire civil service, sectorally.
Non monetary incentives include:
Payment of school fees by gvt for up to three biological children per teaching family, with an upper limit of ZWL 20000 per child per term, paid directly to the school.
-Construction of institutional accommodation of 34000 housing units or 2125 blocks of flats
-Implementation of loan guarantee scheme to facilitate home ownership for civil servants
-Provision of transport facility to ferry teachers in both rural and urban areas
-Duty free importation of vehicles by teachers that cannot be disposed until after three years.
It is clear from the foregoing that the realistic gvt offer after subtracting about $12000 (equivalence of US$100) in terms of salary is 20% of about $8000 for the lowest paid teacher. This falls far short of the US$440 that is the remainder of US$540 after taking off the US$100 guaranteed. It is also clear that there is no urgent rescue package to assist teachers to urgently report for work. One wonders how incapacitated teachers can suddenly be capacitated and start to report for work. The advancement award is shrouded in mystery and there is nothing to write home about it.
While the non monetary incentives resonate with Ptuz submissions to Ministry, gvt, and even President Mnangagwa in December 2018, particularly over school fees and duty free cars for teachers, they can only be made a reality through the restoration of the purchasing power parity of teachers' salaries (US$540). As much as we appreciate gvt payment for about three children of a teacher, the ZWL 20000 upper limit per child per term falls far too little in comparison with the fees demanded in schools. It will also soon be eroded by inflation. It would have been better if it was pegged in US$. We also hope government would judiciously disburse it. Above all, buying a vehicle with the perceived salary increase will remain a luxury.
We appreciate commitment to construct institutional accommodation and loan schemes to facilitate home ownership. However, there is a difference between a promise and implementation. With the corruption that has panctuated loan facilities and housing schemes in Zimbabwe we certainly are convinced this is a high-sounding nothing. As per our various documents we submitted to gvt, including to President Mnangagwa, what we desire as Ptuz is open land that we can service on our own and parcel to our members. Nothing materialised from Chigwedere's Gwindingwi housing scheme despite fleecing teachers of lots of money, and so likewise from another housing scheme fronted by Mtodi. The gvt offer is silent about ECD, bloated class, composite class, class teacher, HOD and 'A' level allowances.
We are certainly convinced that the gvt offer is a tissue of misrepresentation and falls far short of the legitimate demands of patriotic teachers. A better offer could have emanated from collective bargaining under section 65 of the Constitution rather than this unilateralism rubber stamped by archaic and moribund Apex Council.
We are also worried by Ministry of Education and gvt's investments in threats to incapacitated teachers, let alone a facade of lies from Ndoro. We want to state categorically clear that every province has done a survey of teachers' incapacitation at official level that reflect 70 to 80% incapacitation. Teacher Unions have also done surveys that reflect incapacitation above 90%. Why Ndoro would deflate figures remains puzzling. The Perm Secretary has also peddled falsehood as if teachers are deliberately absenting themselves from work and instructed that disciplinary actions must be taken against teachers and some officials at district and provincial levels. The Perm sec must invest in professional ethics of engagement rather than threats. She also insinuated that heads of schools as managers cannot be incapacitated or go on strike which has no legal basis unless she is using a law from Mars. All the same as Ptuz we want to reiterate that teachers are not on strike but are incapacitated. The best way forward is to capacitate teachers. There is virtually no evidence that gvt and line Ministry are concerned with teachers' incapacitation, which is real. Rather, there is evidence of threats and attempt to divide teachers and victimise them. While it is noble for the office of the Vice President to meet with any organisation of their choice, it was unpalatable for this office to meet members of Zimta perse at a time that esteemed office must give inspiration to all teacher Union leaders at this critical juncture. The weaknesses of self pollination as opposed to cross pollination of ideas are so glaring. A solution in the education sector can never be found in unilateralism, exclusion and creating unnecessary divisions, but in inclusivity, engagement and social dialogue that enhances industrial harmony and productivity. Many a times Ptuz has been called to meetings and insisted on attendance by our fellow teacher union leaders. It is our conviction that collective unity in diversity can produce the best way forward. Any attempt to impose ideas of one union on the education sector is moribund and contrary to the Constitutional dictates, ILO Conventions 87 and 98 that guarantee freedom of association and right of recognised Unions to organise etc. As Ptuz, we will be guided by our members on the best way forward, but as of now our members are still incapacitated and the gvt has an obligation to capacitate them so that they can report for work. We also want to educate Ministry officials that it is not an offence to be absent from school, it only becomes a chargeable offence when one is absent without a good cause. Currently, teachers have a good cause, viz, incapacitation, that PSC or gvt must address as a matter of urgency. We remain committed to do our work as teachers, but incapacitation is mitigating against our commitment.
Venceremos
Dr Takavafira M. Zhou, Ptuz President