US risks showdown with China as House Speaker Nancy Pelosi visits Taiwan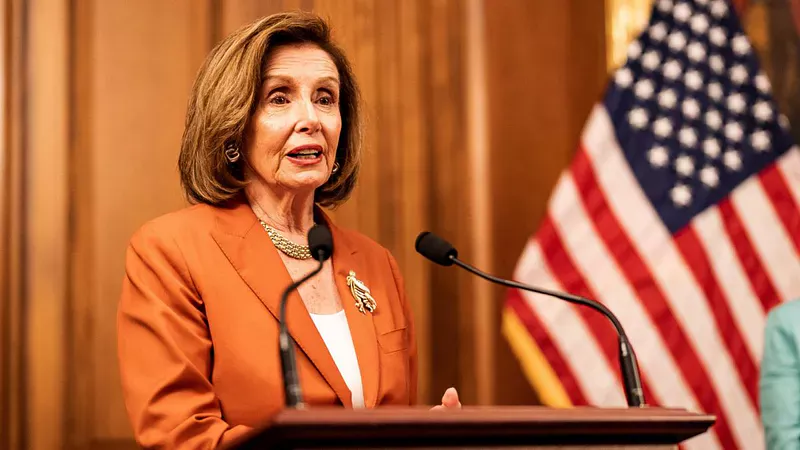 China has repeatedly warned against hawk Pelosi visiting the self-governed island that it considers a part of its territory.
US House Representatives Speaker Nancy Pelosi arrived in Taipei Tuesday night, ignoring repeated warnings of "resolute countermeasures" by China, which considers the self-ruled island nation as its own territory.
After landing, Nancy Pelosi tweeted: "Our delegation's visit to Taiwan honors America's unwavering commitment to supporting Taiwan's vibrant Democracy."
All eyes were on the US Air Force jet SPAR19 – carrying Pelosi — after it took off from Kuala Lumpur's Subang Airport at approximately 3.40 pm Tuesday.


Pelosi's Taiwan visit was not in her official Asia trip this week, but was leaked in the media on Monday. Soon, Chinese warplanes were seen close to the unofficial line dividing the Taiwan Strait.
In addition to Chinese planes, several Chinese warships also sailed near the median line since Monday, sources told Reuters.
Chinese warships and aircraft "squeezed" the median line on Tuesday morning, the source said, an unusual move described as "very provocative".
"Chinese aircraft repeatedly conducted tactical moves of briefly touching the median line and circling back to the other side of the strait on Tuesday morning, while Taiwanese aircraft were on standby nearby," Reuters quoted the source.
Meanwhile four US warships, including an aircraft carrier, were positioned in waters east of Taiwan on what the US Navy called routine deployments, the report said.
The report also said the Chinese army conducted various exercises since last week in the South China Sea, the Yellow Sea and the Bohai Sea, "in a show of Chinese military might".
The question of Pelosi's visit to Taiwan has infuriated China, which said Tuesday that the "US will definitely have to bear responsibility and pay the price for harming China's sovereignty and security interests".
Foreign ministry spokesman Hua Chunying said China would take "firm and powerful" measures in response.
"If the US misjudges or handles the situation across the Taiwan Strait incorrectly, it will have catastrophic consequences for the security, prosperity and order of the Taiwan region and the world at large," she said as quoted by The Strait Times.
Chinese officials said the nation "won't sit by idly" if Beijing felt its "sovereignty and territorial integrity" was being threatened.


Meanwhile, the US has said it would not be intimidated by China's "sabre rattling" on Pelosi's visit, which was initially not on her Asia-trip itinerary.
National Security Council Strategic Coordinator for Communications John Kirby told reporters on Monday: "There is no reason for Beijing to turn a potential visit, consistent with long standing US policy, into some sort of crisis or conflict, or use it as a pretext to increase aggressive military activity in or around the Taiwan Strait."
"The speaker has the right to visit Taiwan," Kirby said at a White House briefing on Monday. The power structure within the US government is such that the House Speaker can make his or her own decisions about a foreign visit.
Pelosi was in Malaysia earlier Tuesday, having begun her Asia tour in Singapore Monday. Her office had said she would also go to South Korea and Japan, but made no mention of a Taiwan visit.
In the backdrop of escalating tensions with China, the two countries' premiers spoke for two-hours-and-seventeen minutes on 28 July, during which Xi Jinping warned Joe Biden not to "play with fire" and abide by the "One China" principle.
Xi stressed that both sides of the Taiwan Strait belonged to one and the same China and that China firmly opposed separatist moves toward "Taiwan independence".
Before the meeting, Biden had also said that the US military did not believe it was a good time to visit Taiwan, but stopped short of directly telling Pelosi not to go, according to CNN.
The US, however, does not "support Taiwan independence" but says it has "a robust unofficial relationship" with the island. It also supports Taiwan's membership in international organisations while China has sought to isolate the country.
While another House Speaker had visited Taiwan in 1997, Pelosi's visit is significant as it potentially aims to counter China's challenge to "American democracy and military and economic supremacy".
Once China began with the tough rhetoric on her impending visit, it became impossible for Pelosi – a known China hawk – to back down, analysts said.
As Xi seeks a third term in power, a very senior US politician's visit to Taiwan is aimed to deliver a humiliating slight to the leadership, according to reports.
Reuters reported Pelosi's meetings in Taiwan, including with President Tsai Ing-wen, were all scheduled for Wednesday.
Pelosi will also meet a group of activists who are critical of China's human rights record, according to the report.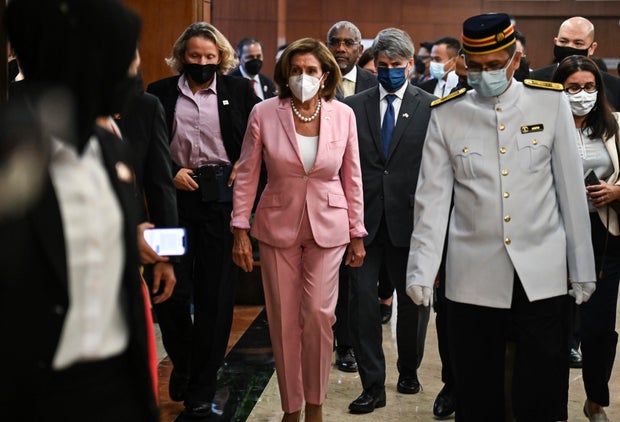 –ThePrint