Zimbabwean journalist Hopewell Chin'ono acquitted of bogus charges
Zimbabwean journalist and filmmaker Hopewell Chin'ono has been acquitted of any wrongdoing by the High Court of Zimbabwe in a case involving gold smuggling allegations. The court also ordered the state to pay his legal costs.
Chin'ono was arrested on November 3 2020, for exposing a corrupt deal between the National Prosecution Authority and Henrietta Rushwaya, who was caught trying to smuggle 6.7 kgs of gold to Dubai. He was charged with obstructing the course of justice, but his lawyers challenged the validity of the charge and the jurisdiction of the magistrate.
This is the third time that Chin'ono has been acquitted by the High Court after being arrested on politically motivated charges. He was first arrested on July 20 2020, for exposing the looting of public funds meant for Covid-19, and spent 45 days in Chikurubi Maximum Prison. He was arrested again on January 8 2021, for allegedly communicating falsehoods, and spent 23 days in prison.
Chin'ono is a renowned journalist who has won numerous awards, including the CNN African Journalist of the Year Award twice. He has worked as a foreign correspondent for BBC. He is also a fellow at Harvard University and a Tutu Fellow in African Leadership.
In a statement after his acquittal, Chin'ono thanked his legal team led by Beatrice Mtetwa, and the Zimbabwe Lawyers for Human Rights. He also thanked his family, friends, and supporters for standing with him during his ordeal.
He said that his case proved that he was a victim of political persecution by President Emmerson Mnangagwa's government for exposing corruption and human rights abuses. He called on the government to respect the rule of law and stop using the police, courts, and prison service to punish and persecute critics, opposition members, and journalists.
He said that he was not celebrating his acquittal, as his life was messed up for three years and there were still political prisoners in jail. He mentioned Job Sikhala and Jacob Ngarivhume as examples of innocent citizens who are being persecuted like him.
He urged Zimbabweans to continue fighting for democracy, accountability, and justice in their country.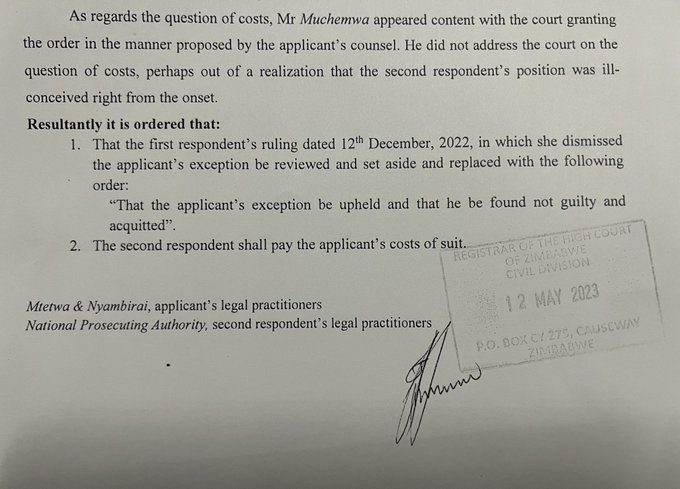 ·
48.6K Views
About Post Author