Trump sings from Zanu PF's hymn book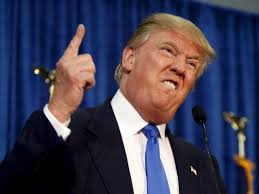 By Theresa Nkala
BRIGHTON (England) — Donald Trump, the incumbent president of the United States, seeking re-election in today's plebiscite, has learnt a thing or two from Zanu PF — intimidation and vote-buying works.
Staring defeat in the face, Trump has gone for broke — flooding areas of the United States that are pre-dominantly black and Latino with goodies!
One man who called himself Chief Kalle, an avowed Democrat, posted a video of himself with groceries that included eggs, bacon, cheese and vegetables. In with the groceries, was a letter, signed by Trump, asking for his vote.
Several women could be heard in separate videos shouting across to their neighbours, "That's Trump's truck across the road! Get the food but don't vote for him!"
True to Zanu PF style, militias associated with Trump have threatened to fight should the incumbent lose. Last week, former vice president Joseph Biden's campaign bus was escorted out of a town by gun-toting militias associated to the incumbent. The FBI are investigating the incident.
Last month, the FBI arrested several men, associated to Trump who were planning to kidnap Gretchen Whitmer, the Democratic governor for Michigan.
Zanu PF has in the past, been kidnapping opponents, jailing or even murdering them in cold blood, especially during election time. When all that failed, they brazenly rigged. In 2008, it took them more than three months to announce the results while they were cooking the figures.
It might take that long in the US too, should Trump challenge the outcome. In the past poll in Zimbabwe, ZEC (the Zimbabwe Electoral Commission) altered figures so many times leading the challenger Nelson Chamisa to contest the results in court.
However, the Justice Luke Malaba-led Suprene Court ruled the anomalies were minor to significantly alter the final verdict and therefore declaring President Emmerson Mnangagwa the winner.
Zanu PF has also been flooding rural areas with fertilisers, seed and groceries. Not to be outdone, Mnangagwa's wife, Auxillia, has been making forays into some rural areas delivering mufushwa to starving villagers.
This has worked for Zanu PF. We may know if it works for Trump this week.