Man beaten up for revealing Job Sikhala's hideout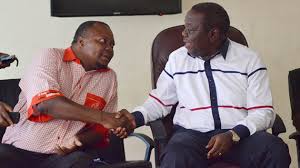 An MDC Alliance member was yesterday rushed to hospital with serious head and body injuries after some three MDC A youths aligned to Job Sikhala's faction severely struck him with iron bars leaving him half dead accusing him of tipping the police on the whereabouts of Sikhala.
From the incident, it has emerged that Job Sikhala has been hiding in Tynward at Sarah Mahoka's house before he was arrested on Friday last week. According to this incident, the police were given a tip off by an individual from another MDC Alliance faction aligned to Nelson Chamisa.
Mr Sean Moyo (33) of Kuwadzana 7 lost consciousness and was severely bleeding when his brother Mr Simon Moyo rushed him to Parirenyatwa Hospital yesterday where he is fighting for his life in the intensive care unit on oxygen.
He sustained a deep cut on the forehead, some serious internal and external injuries and broken ribs after he was severely attacked by Simba Mawire (27), John Masango (32) and Manford Chinembiri (29). The 3 were later arrested by the police on the crime scene with the help of the community.
According to eyewitnesses and Police reports, the accused persons all from St Mary's Chitungwiza found the victim at a shabeen where several people had gathered for beer in defiance of lockdown measures announced by Government to prevent the spread of Covid-19.
According to eyewitnesses and police reports, upon arrival, they picked a verbal fight with Sean Moyo accusing him of being a sell out working on behalf of Nelson Chamisa and Charlton Hwende who have been plotting Sikhala's expulsion and elimination. All this came amid reports that Job Sikhala was aiding Tendai Biti's 2023 Presidential aspirations.
The accused persons later picked iron bars which they used to hit the complainant on the forehead and everywhere several times. Mr Moyo fell unconscious as blood oozed from a deep cut on the forehead, nose and mouth. The people had to intervene stopping these three and calling the police. This is when his brother rushed him to hospital where he is fighting for his life.
The 3 who couldn't escape the crime scene were then arrested and charged with attempted murder. The attempted murder case has the RRB Number 3947946 and the accused persons are being detained at Kuwadzana 2 Police station. They are expected to appear before the court tomorrow.
Stephen Chuma, who is also accused of selling out Sikhala told Zimbabwe Observer that the allegations were "hogwash."
"Ndogottengesa Wiwa ini ndichitsvakwawo," said Chuma. Loosely translated as how can I sell out Wiwa when I am also on the run.
––Newsday and Staff Reporter