Chamisa vows never to surrender MDC A brand to Zanu PF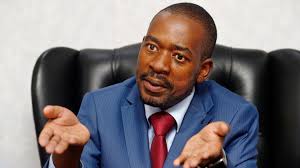 Nelson Chamisa while addressing the MDC Alliance e-rally in the capital yesterday, said they were not going to change their name from MDC Alliance and insinuated that those that were pushing them to do so by their actions were working for the ruling party.
Adressing his supporter in the e-rally that was celebrating the MDC's 21st anniversary, Chamisa said:
I am happy that we are consulting our members countrywide. We are MDC Alliance. We are a baobab tree. You can't cut MDC Alliance with a razor. We refuse to be swallowed. We cannot change our name at the insistence of Zanu PF
Chamisa also assured his party supporters that they have a plan to fight the continued blitz on their party and said:
The first plan we have is a political settlement. Some people are saying why are you not demonstrating; but we have reached here because we know what we are doing.

We know what we want to fight for. We want to fight for a people's government because what we have is not a people's government.

Do not be scared, the struggle is in good shape. If we had two million (people) now we have doubled. We have not shut down the country because we do not want to do so.
Chamisa then said they have given peace, dialogue and democracy a chance but some were disrespecting that:
We have been founded on the fight for democracy, on the roots of fighting for freedom… The fight is not ended and until we destroy all attempts to make Zimbabwe a one-party state, we will not rest. Mnangagwa will not control us. He wants to control all of us, but he will not manage that."

We have given peace a chance, but some have been disrespectful of this. We have been founded on the roots of fighting for freedom. This fight has not ended.

We have given dialogue a chance, but some perceive our call for dialogue as a weakness. We have given democracy a chance, but some feel an election which is stolen means that we will capitulate and we are surrendering to the electoral fraud. Democracy is under attack, citizens are under attack, all of us are under attack.

One way I must tell you of looking into this is that when we are under attack, this is an opportunity to organise everything. So we are calling on all Zimbabweans, now forget about your political parties, and now forget about your churches, organisations, student movements, any other belonging. Let's remember that we are all under the banner of Zimbabwe.

Let's unite, let's unite. In the next coming days change is coming. Be part of it. That is why as leadership, we are not panicking. The walls of Jericho are falling. Don't lose sleep
Nelson Chamisa's remarks came after the Thokozani Khupe led faction last week rebranded and changed their name to MDC Alliance.
–The Standard