MDC A remains out of action as Zimbabwe burns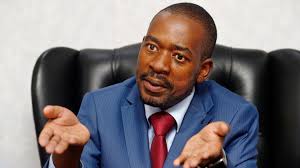 By Tambanavo Chamanyawi
The leadership of MDC A has remained out of action as Zimbabwe burns.
Restive Zimbabweans suffering under President Emmerson Mnangagwa's suppressive regime seem leaderless as Nelson Chamisa fails to chant the way forward.
Instead of leading from the front to cushion his 2.6 million voters that he claims to own, Chamisa opted to remove himself from the vortex of political action citing fear for his life as the reason.
On numerous occasions Chamisa literally inferred that those who were suffering in the hands of ED's regime were careless and confrontational.
Speaking at Patson Dzamara's funeral Chamisa said his confrontation with the regime gave his captors an opportunity to poison him whilst in prison. The MDC A leader also said he advised the then detained award winning Journalist Hopewell Chin'ono and Transform Zimbabwe leader Jacob Ngarivhume not to eat prison food to minimize chances of being poisoned.
He also extended the same warning to the detained MDC A Vice Chairman, Job Sikhala. On numerous occasions, Nero maintained that he was avoiding detention at whatever cost as his arrest will spell doom for the struggle and his life.
"If the leader is scared of leading from the front and not prepared to pay the ultimate price for his convictions, then who will do so on his behalf?" posted one MDC activist on his tweet account.
His army of followers who thunderously voted him to be president of Zimbabwe are beginning to feel betrayed by his unwillingness to defend their votes. Judging from the doubt being expressed on social media about his leadership, it is now clear that the Cobra has lost its sting.
Masses expect the popular Chamisa to rise up to the occasion in face of constant on slaughter from both ED and Thokozani Khupe.
Instead MDC A has been reduced into a shadow of its former self by average political opponents that Chamisa could have easily outsmarted by mobilising his followers.
Harvest House fell to Khupe without any form of resistance. MPs and Councilors who rode to parliament and councils at the back of the masses' popular support are being recalled willy-nilly by Khupe without any notable resistance from their leader.
A respected South Africa based Zimbabwe newspaper editor and lawyer, Ray Mungoshi, said MDC was losing relevance.
"MDC A is slumbering into irrelevance as it has failed to counter alleged governmental excesses since the beginning of the year. One would be forgiven for thinking the party and its leadership has also been paralyzed by the effects of the coronavirus like the rest of humanity. Chamisa was deafeningly quiet during the Covid-19 PPE scandal, the journalists and lawyers" arrests. He is guilty by omission of the crisis that is unfolding in the country," said Mungoshi in an interview with Zimbabwe Observer in Bloemfontein.
Mungoshi added that MDC A was out-sourcing its main responsibility of fighting tyranny and human rights abuses to Chin'ono, Ngarivhume and the party's Vice Chairman Job Sikhala.
"A viable opposition should be at the coalface of any fight against tyranny and rights abuses. More strange is the MDC A's claims that Sikhala has gone awol yet he was in the trenches," said Mungoshi.
There are little public protestations coming from MDC A over the continued detention of its Vice Chairman Sikhala, amid revelations that Wiwa was left on his own by his comrades who prefer talks with ED.
ED looks relaxed and comfortable. He doesn't seem to the bearing the kind of pressure which the late Robert Mugabe was subjected to by the dearly departed MDC founder Morgan Tsvangirai.
The 'Croc' as Mnangagwa is known, remained unmarked enjoying all the latitude and leverage to score political goals as Chamisa sped off from the pitch. Nero has abandoned the goal post, leaving political chance takers like Khupe to score as they please.
Lack of political dexterity, abundance of cowardice and sheer selfishness on the part of MDC A leadership is buoying Khupe and ED to treat MDC A as an object of misuse and abuse. Unprecedented lack of legal foresight afforded Khupe a political penalty shoot-out which left MDC A councilors and MPs at the mercy of election losers.
The politically wounded Khupe who was also recalled from parliament by Chamisa is merciless. Her vindictive razor sharp political dagger is chopping off Chamisa's MPs and Councilors without any counter strategy from Nero. Chamisa has turned to motivational speaking and comedy, instead of displaying the political fibre which the 2.6 million voters saw in him.
Apart from failing to defend the people's votes, Tsvangirai's party started disintegrating as soon as Chamisa overtook Khupe from the left. The Party's poor conflict resolution mechanism precipitated a devastating power struggle between Chamisa and Khupe which is politically suffocating the soul of MDC. There is no plan in sight to resuscitate the fortunes of MDC, as the current leaders spew half-baked tactics and continue to surrender political space to Khupe and ED without even lifting a finger to defend the people's votes.
With by elections scheduled for 5 December, there is a danger that Chamisa's candidates will contest elections as independent candidates, as his MDC A brand has been trashed beyond repair. This will further weaken Chamisa's grip on his councilors and MPs as he will loose the power to recall independent legislators and city fathers.