Minister Ziyambi in an office romance screaming match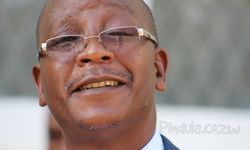 Here is an audio recording of a heated argument allegedly between Zimbabwe's justice minister Ziyambi Ziyambi and the husband of a law officer in his ministry who claims Ziyambi is clearly ravishing his wife after he filed for divorce from his wife of 27 years, Florence.
Ziyambi vehemently denies he is sleeping with Tariro Shangu, a law officer in his ministry.
What incensed Ziyambi, according to the audio, is Tariro's husband allegedly phoned the minister's mother in the rural arears complaining about the alleged affair. As if to add salt to injury, he is also
alleged to have contacted jilted Florence, nee Mhizha, a lawyer and former deputy prosecutor-general.
It is not clear where Tariro's husband works but the minister is allegedly heard threatening
him with a lawsuit and a loss of his job, to which the offended husband retorts, "Ndine ma message" ("I have phone messages.")
And Ziyambi fires back, "Enda nawo kwaunoda ma message acho auri kuti akabva kwandiri, you will lose your job! ("Take the messages you purport to have come from me to anywhere you like, you
will lose your job!" The husband replies: "I wanted us to talk as men," and a clearly miffed Ziyambi shouts back, "I don't talk to idiots like you, you are an idiot! Why did you phone my mother in the rural areas? I have your
number and will phone NetOne to tell them you are harrassing me! You will lose your job, I can guarantee that!"
Tariro's husband asks, "Makarambana riinhi nemukadzi vaZiyambi? (When did you divorce your wife,
Mr Ziyambi?) He shouts back, "Ask her when I last lived with her! Go and sort out your problems with your girlfriend and don't harrass me!"
"She is my wife," the husband tries to explain, but a clearly angry Ziyambi tells him not to involve him in his matters of the heart. "I don't even know her," he says.