Sikhala's High Court bail application tomorrow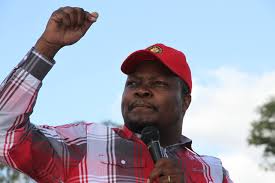 After being denied bail by a Harare Magistrate on Thursday, MDC Alliance Vice Chairman, Job Sikhala has taken his freedom bid to the High Court of Zimbabwe and he is arguing that the magistrate who denied him bail erred and misdirected himself in denying him bail, Daily News reports.
In court papers seen by the publication, Job Sikhala's lawyers are arguing that:
The finding by the court a quo that appellant went into hiding for some time before he could be arrested is inconsistent with established evidence in that no evidence was adduced by the State of any effort to contact appellant for him to surrender himself to the police at any stage. No evidence was adduced by the State that they made it public that they wanted the appellant in connection with any offence.
Even then, there is nothing ex facie the press statement that appellant was sought in connection with the commission of any offence. Instead, he was being sought on account of being an activist which in itself is not an offence. No legal obligation arises for one to surrender self to the police merely on account of being labelled an activist by the police.
The magistrate court that denied him bail sided with the state and said there was no reason the arresting officer would lie that Sikhala was found hiding in the ceiling to avoid arrest. Sikhala vehemently denied the allegations citing his physical statue as a limiting factor for performing such a task.
–Daily News