South Africa must shut up as they never gave Zimbabwe even a Rand, Chinamasa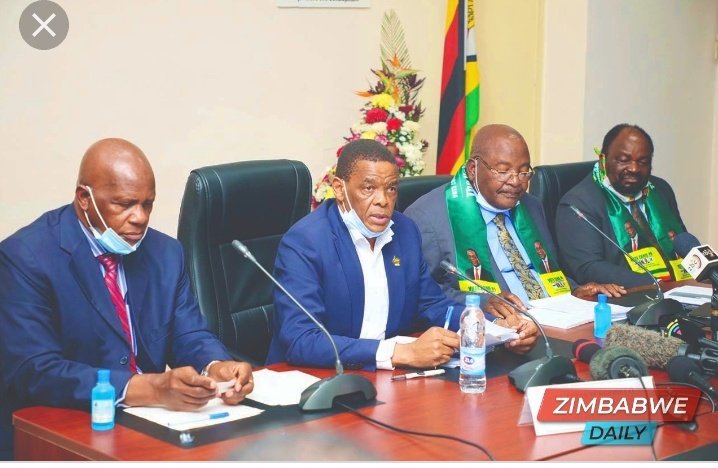 From left to right: Patrick Chinamasa, Elias "Ace" Magashule, Obert Mpofu, and Simbarashe Mumbengegwi
ZANU PF acting spokesperson Patrick Chinamasa on Friday said Zimbabwe has not received any kind of assistance from South Africa since independence in 1980.
He said in fact, Zimbabwe's economic challenges are partly attributable to South Africa's apartheid system whose authors are still in charge of South Africa, albeit covertly.
Addressing reporters during a press conference held at the ZANU PF Headquarters in Harare on Friday, Chinamasa said:
Let me put it on record, I am talking as a former Minister of Finance, Zimbabwe has not received any assistance of whatever nature from South Africa, other than us selling and importing from South Africa, if that is the assistance, well maybe, but direct assistance, Zimbabwe has not received a cent.
We have not received a cent as Zimbabwe, from the apartheid economy or from the post-apartheid economy, that I can tell you without any prevarication.
The assistance which is now being touted about, if it is true, clearly, if they had not stood by us economically in the past 20 years when sanctions were imposed on us, how can anyone seek to stand by us economically when we are almost out of the woods.
Chinamasa said that former South African president Thabo Mbeki did not impose himself on Zimbabwe in 2008 but was invited by the government to mediate between ZANU PF and the MDC.
Mbeki's mediation was to help Zimbabwe defend the gains of the liberation which were being threatened by the British who were threatening military invasion of Zimbabwe, Chinamasa added.
–The Herald